We repeat it so often that it's becoming cliché: The demand for autonomous vehicles means unprecedented amounts of money are flowing into lidar development, and that's bringing new, lower-cost, and potentially groundbreaking technologies to the market. It's disrupting our cozy little 3D-scanning industry.
Ouster is a great case study for this phenomenon. In January, the company announced a lidar sensor that took on the incumbent automotive lidar manufacturer by offering 64-channel scanning at 1/6 the cost. Next, the company released a $3,500 16-channel lidar, and then a firmware upgrade that enabled its flagship lidar to gather 2D signal-intensity images and ambient images in real time, without a camera. It's worth noting that Ouster has designed its lidar to be used for vehicle-, drone-, and robot-based mapping, not just autonomous navigation.
And these hardware releases looks like they could be just the start Ouster's plan. In a recent interview and a blog post, CEO and co-founder Angus Pacala went deep on his company's technology and laid out a few future possibilities enabled by its "radically different" approach to lidar.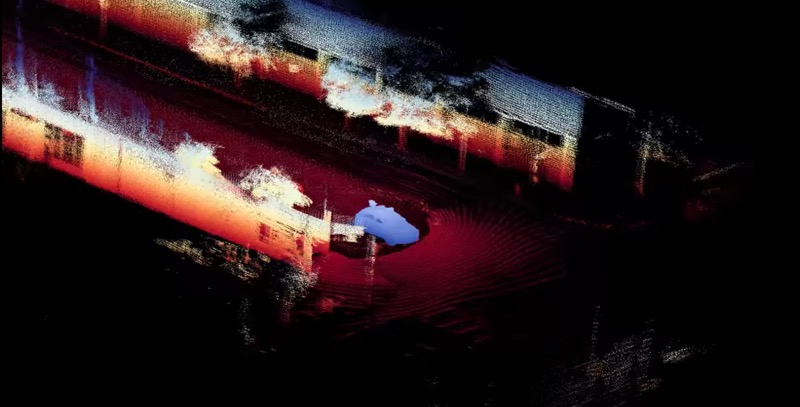 A (different) solid-state lidar
The first factor that differentiates Ouster's lidar is that it's based on solid-state technology. That is, where most existing high-performance lidar for the automotive market (or for other markets) are built with thousands of little electronic parts, Ouster's lidar replaced virtually all of those parts with two silicon-based microchips. This approach is miniaturizing the lidar sensor just it once helped shrink the room-sized computer down to a slick bar of glass you can slip into your pocket. (My congratulations to whomever at Ouster wrote the subheading to Pacala's blog: "silicon eats industries. Lidar is next.")
Still, a solid-state, automotive-mounted lidar is only somewhat notable in 2018, considering that there are a number of companies publicizing their own solid-state sensors in various stages of completion. However, Ouster sets itself apart again, because its technology works on different principles than virtually every other solid-state solution out there. That's because Ouster tech uses a unique combination of two custom chips: one vertical cavity surface emitting laser (VCSEL) chip for firing the lasers, and one photon avalanche diode (SPAD) chip for detecting the lasers when they bounce back. Put these two chips together, and you get a "multi-beam flash lidar."