Geospatial company VeriDaaS is planning a high-density LiDAR elevation data collection at a minimum of 30 points per meter (ppm) over the entire State of California in the Spring 2021 as part of the VeriDaaS National Mapping Initiative (VeriMAP). This article describes the technology used for the project and the use cases for higher density data.
VeriDaaS is a Denver-based geospatial solutions provider focused on providing data, products, and solutions, based on the best data available, at a national level. The company produces high density LiDAR data and derived products for government, energy, telecommunications, transportation and resource management clients. VeriDaas' products support flood modeling, asset and vegetation management, transportation planning, telecommunications line of sight analysis, terrain change detection, generation of accurate 3D base maps and other important use cases across multiple vertical markets.
VeriDaaS is planning a high-density LiDAR elevation data collection at a minimum of 30 points per meter (ppm) over the entire State of California in the Spring 2021 as part of the VeriDaaS National Mapping Initiative (VeriMAP). This nation-wide mapping program provides high-density LiDAR-derived products for commercial and government users. The baseline density of the data is 30 ppm to support the accurate extraction and classification of building footprints, utility assets, road networks and vegetation. The data also supports the generation of highly accurate Digital Elevation Models (DEMS) that support flood and terrain modeling. The 30 ppm baseline data provided the best density to support a wide range of customer use cases in terms of cost/benefit analysis. Customers across all vertical markets are driving the requirement for higher density data. VeriDaaS is generating custom derived products from the 30 ppm data to meet the specific needs of its customers.
Customer Benefits
VeriDaaS will be using the Geiger-mode LiDAR sensor systems and multiple fixed-wing aircraft for the project. VeriDaaS's approach to Geiger-mode LiDAR data collections supports delivery of LiDAR data with higher point densities at the cost of lower density products. Higher point density data provides multiple benefits to its customers. For example, higher density data can delineate the ground (surface details, contours) and above ground features (building footprints, vegetation, etc.) much better compared to QL2(2ppsm) or QL2+ (4 ppsm) data. Also, as the density improves the edges of buildings become crisper, but also other structures come into clear focus. Furthermore, higher point density LiDAR data greatly improves relative accuracy of bare-earth DEM elevation, while high density data improves stream level detailed delineations to support mapping and flood analysis.
How the Geiger-mode LiDAR system works
In 2019, VeriDaaS purchased from L3-Harris their three proprietary Geiger-mode LiDAR systems. Geiger-Mode LiDAR is unlike traditional Linear LiDAR systems in that the sensor transmits laser pulses from aircraft at high frequency to the earth surface where it is reflected in near-infrared and measured by two-dimensional imaging array at the photon level. A Palmer circular scanning system images the outer surface from the reflected laser energy, creating a circular ring pattern beneath the aircraft. The combination forward motion of the aircraft and circular ring scanning system creates many overlapping images that are used to derive 3D terrain features at a very high resolution and precision.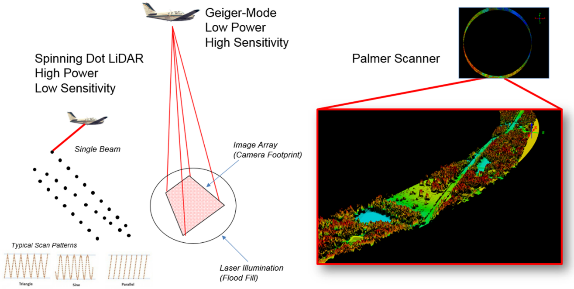 The advantage of this technology is significant: the data can be collected up to three to four times faster than Linear LiDAR, reducing overall costs and the collection is at higher altitudes ~6,000 – 30,000 feet (2km – 10km) above ground level, providing increased collection swaths. In addition, the imaging array creates a uniform spatial point distribution for better feature extraction. Sensor/flight configuration allows for point density ranging from 2ppsm – 50 ppsm for high definition surfaces. As part of that purchase, VeriDaaS became the exclusive provider for Geiger-mode collection and processing in the world. Since the acquisition, VeriDaaS has made significant investments in its Geiger-mode program to ensure quality, enhanced collection and processing capabilities and a robust and strategic commercialization of the data offering.
Use cases for higher density data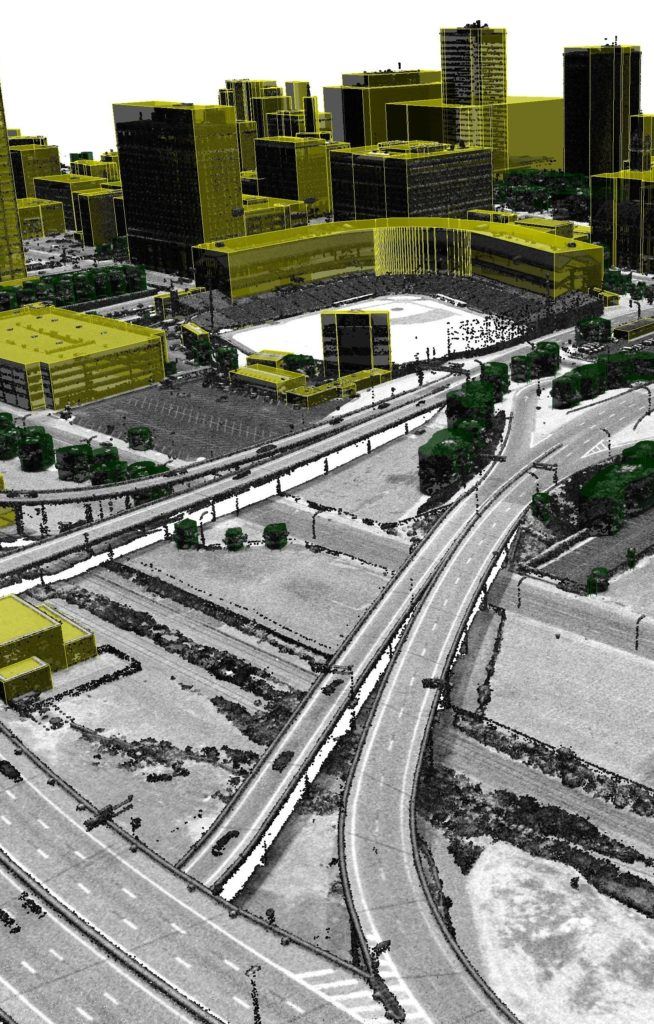 The USGS 3DEP program has acquired large portions of the United States mostly at a QL2 density level of 2 ppm as part of their mission to provide a national baseline of consistent topographic data. The data products generated by this program are included in a public domain database that any government or commercial users have access to.  Several U.S. State Agencies have also created LiDAR-derived data bases through their own State-managed procurement programs mostly at lower density levels.
The USGS 3DEP program was designed to build this 3D database over a 10-year time frame, culminating in the Year 2023.  Due to the duration of this program, the data collected in the first half of the program is becoming dated, particularly in metropolitan areas that have experienced significant growth. While this density supports a few high value use cases, there are significant advantages and a wider range of use cases that can be realized with higher density data. The VeriMAP program is designed to support the need for high density and current data. Some of these use cases for higher density data include infrastructure mapping, 3D urban mapping, vegetation and forestry classification and corridor/utility mapping.