One of the most common applications of lidar is to create a 3D representation of terrain, but it is not without challenges. Natural and human-made features such as cliffs, steep slopes, road edges, stream banks, and building walls may not be accurately represented by the individual points in a point cloud alone.
To address this limitation and improve the accuracy of the elevation model, breaklines are used. A breakline is a set of connected 3D points that define a linear feature with a distinct elevation change, such as the edge of a cliff or the slope of a riverbank. By incorporating breaklines into the data processing and interpolation algorithms, the resulting DEM or DTM will more accurately reflect the shape of the terrain, including the sharp transitions in elevation along these features. Breaklines play a crucial role in hydrological modeling, floodplain mapping, and other applications that require precise elevation information.
While breaklines can be captured manually by surveyors or derived from existing vector data sources, software tools often use breaklines to influence the interpolation of elevation values between lidar data points. By incorporating breaklines, the elevation surfaces can be better constrained along these important terrain features, resulting in more reliable representations of the landscape. This enhances the precision of the final elevation models and makes them more suitable for various geospatial analyses.
Breakline Builder 4.0 features and updates
DataSight has released a new version of its breakline-generating software solution, Breakline Builder. This new version, Breakline Builder 4.0, includes several new features that enhance the user experience. DataSight also announced the functionality will be included in other cloud software offerings from third-party vendors, which means its breakline generation capabilities are an added feature for users of those software products.
Breakline Builder analyzes a point cloud to accurately identify shapes within the terrain and converts those shapes into much smaller and more usable data. By automating this process, time-consuming manual breakline creation is no longer needed. The most interesting new functionality is a new breakline engine for managing big datasets and providing higher precision and data accuracy when processing point clouds.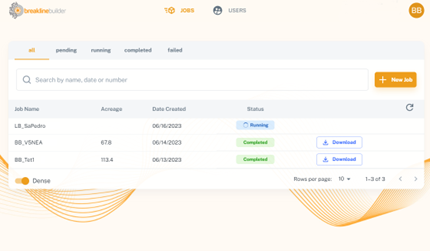 For the first time, Breakline Builder users can self-register on the platform meaning they will gain immediate access to the product. With a new registration comes the ability to try the software for free for a limited amount of acres. Also new are advanced security enhancements that increase the integrity and speed of user data. A more intuitive and user-friendly user interface streamlines the workflow and lets users more easily navigate the platform.
Software integration
The latest release of Breakline Builder will soon integrate with AirWorks and Phoenix LidarMill.
AirWorks and DataSight announced a strategic partnership last February to create a one-stop software solution for map production from aerial imagery and point cloud data. AirWorks Automate is the company's SaaS that uses AI to create 2D and 3D linework or planimetric features from geospatial data coming from different sources (drones, satellite imagery, aerial and mobile lidar, and more). The solutions of both companies will be integrated into a single platform so that clients can choose to create break lines along with their base maps. This option will be made available in Airworks Automate.
Phoenix LidarMill is a cloud-based post-processing lidar platform that enables surveying teams to take advantage of precision laser mapping without investing in post-processing software and training. LiDARMill streamlines the post-processing workflow, automatically generating a ground/non-ground LAS file and gridded DTM. Similar to the integration with AirWorks Automate, it is likely that the output of LiDARMill will include the option to generate break lines after the integration process with Breakline Builder has been realized.