Creaform added a new line of handheld 3D scanners to its HandySCAN3D line-up, that aims to enable professionals and small businesses to improve product development, shorten time-to-market, and reduce development costs.
Developed and manufactured in North America, the SILVER Series captures highly accurate and repeatable 3D measurements of any complex surface in any location. The SILVER series offers two new handheld scanners: the HandySCAN 307 and HandySCAN 700. Both come with all the features that made the HandySCAN 3D scanners, including quality optics, 7 laser crosses that can quickly capture the surfaces in the entire field of view with a scan area of 275 x 250 mm (10.8 x 9.8 in).
A simple user interface and real-time visualization offers an ease of use and a short learning curve. The system is portable, lightweight and can be set up running in less than 2 minutes, either in-house or on site: using triangulation on optical reflectors to determine its relative position to the part, the scanners are stand-alone devices that do not require a tripod or any external tracking device to operate.
HandySCAN 307 and HandySCAN 700 product specifications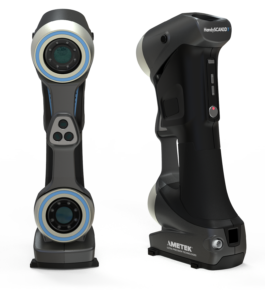 The HandySCAN 307 offers an accuracy up to 0.040 mm (0.0016 in), a volumetric accuracy of 0.020 mm + 0.100 mm/m (0.0008 in + 0.0012 in/ft) and a measurement resolution of 0.100mm (0.0039 in). The HandySCAN 700 offers an accuracy up to 0.030 mm (0.0012 in), a volumetric accuracy of 0.020 mm + 0.060 mm/m (0.0008 in + 0.0007 in/ft) and a measurement resolution of 0.050mm (0.0019 in). Featuring dynamic referencing, both the scanner and part can move freely during scanning, and an accurate and high-quality scan can still be obtained. Both instruments have a mesh resolution of 0.200 mm (0.0078 in) with a measurement rate of 480,000 measurements/s. Both instruments weigh 0.85 kg (1.9 lb) each and the product sizes in length, width and height are 77 x 122 x 294 mm (3.0 x 4.8 x 11.6 in).
3D scanning software
The HandySCAN 3D | SILVER Series comes with VXelements 3D scanning software, that combines the following modules: VXinspect dimensional software module for first article inspections or quality control; VXmodel, a scan-to-CAD software module to finalize and prepare 3D scan data for use in any 3D printing or CAD solution and finally Pipecheck, an NDT pipeline integrity assessment software module. Additional and compatible software solutions include 3D Systems (Geomagic Solutions), InnovMetric Software (PolyWorks), Metrologic Group (Metrolog X4), New River Kinematics (Spatial Analyzer), Verisurf, Dassault Systèmes (CATIA V5, SOLIDWORKS), PTC (Creo), Siemens (NX, Solid Edge), Autodesk (Inventor, PowerINSPECT).