Interscan's construction background deemed 'huge asset'
Interscan is a new, London-based 3D scanning and modeling service provider. SPAR caught up with technical manager, Colin Shaw, who explained the unusual and innovative origin of the firm and its plans for the future.
SPAR: When and how did Interscan start?
Shaw: The journey first started in mid-2012 when Mr. Louis Livramento (Interscan Managing Director) was frustrated with traditional surveying methods in his high-end residential stonemasons company, Livra UK Ltd. Sending very experienced surveyors out to site for days or even weeks at a time to measure bathrooms, in the traditional manner, using tape measures and spirit levels is far from ideal.
Thinking there must be a better way, we set to looking into the problem and shortly after acquired out first laser scanner. After a few months, it was clear that scanning is the future of site surveying and that we were just scratching the surface. The potential to assist many other industries with our existing team was an opportunity not to be missed. In September 2013, Interscan was born, with is sights firmly set on the 3D world and the technology that creates and develops it.
SPAR: What services does the company provide?
Shaw: Primarily, we are a laser scanning company and supply usable data to the customer, that sometimes leads to CAD drawings, orthophotos, 3D models or full measurable 360 panoramic tours of the scanned area, through our webshare. We are also more than happy to find solutions for people in any aspect of the digital 3D world. Our team is always happy to have a friendly chat to discuss the customer's needs. Our construction background is a huge asset.
SPAR:How many people currently work for Interscan?
Shaw: At the moment there are three people working at Interscan with the addition of freelancers as and when we need them.
SPAR: What technology are you using and why did you choose that in preference to other scanning solutions?
Shaw: We are using mainly the Faro Focus 3D. There were a lot of factors that went into the choice but we felt the Focus was a nice compact unit. This was perfect for London travel, had the technology to do the job we needed it to do and also we felt Faro as a company had the reputation for precision that we wanted.
SPAR: There are a lot of people doing 3D scanning nowadays – why should a potential customer choose Interscan in preference to another provider?
Shaw: Most companies we have come across aren't doing scanning as their primary service. Interscan is a scanning company – that is what we do. We are a friendly, approachable company and we want to educate people on the technology, as well as provide a service. We pride ourselves on being a bit different to other companies and we are confident we can help with people's scanning needs in any industry. Again, years of working with architects and contractors give us a real edge. We speak the same language and our clients feel comfortable with that in mind.
SPAR: Your website highlights such potential uses as crime scenes, accident scenes, heritage and restoration, CGI and BIM. Which do you expect to get most business from?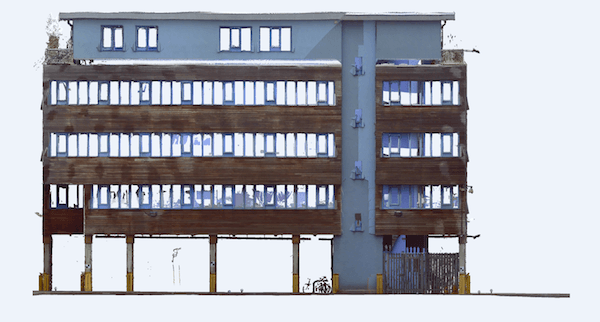 Shaw: We have highlighted these as being the main sectors but the potential markets include almost everyone. So the biggest market for us has probably not yet been explored but out of the ones you mentioned we think that BIM is the big thing for us right now.
SPAR: Following your lead, do you expect use of laser scanning to become commonplace in the stonemasonry/bathroom fittings business? What other (novel) uses do you see for the technology that you would like Interscan to get involved in?
Shaw: We are confident that scanning is the future of surveying in all industries, so yes we see it being commonplace. Anywhere you need a high level of accuracy to save time and money on material and manufacturing, scanning is the way forward. We at Interscan want to be involved in all aspects of scanning. Thinking outside the box ourselves, I think we will be pushing the boundaries as to what can be done. For example, as far as I'm aware we are the only company to have a 13m mast on the back of a truck that we use for laser scanning.
SPAR: Where (if anywhere) does 3D printing fit in with what you are doing?
Shaw: As we can make 3D models from the scans, we can then print the part for prototyping or reverse engineering. If a client wants a scale model of their premises of course this is an option as well.
SPAR: You are based in London, is that where you expect most of your business/clients to be as well?
Shaw: London is always a good place for technology and we will do a large amount of work there but we see ourselves as a global company. We will go where the customer needs us.
SPAR: Where do you see the company two or three years from now?
Shaw: As a global name in 3D solutions and technology, with a well established reputation for thinking differently and great customer service.