A new high speed rail line, HS2, is currently being built in the UK, with the aim to connect the biggest cities in Scotland with Manchester, Birmingham, and London. It's a massive project not only in the context of the UK, but Europe as a whole as it is the largest current infrastructure project on the continent. Balfour Beatty VINCI (BBV), a joint-venture firm working on the project, is utilizing new drone technology for the Midlands portion of the project, and Esri UK announced that BBV will be utilizing Site Scan for ArcGIS to support that drone deployment strategy.
This major project has a lot of moving parts, and here Site Scan for ArcGIS is being used to assist with the drone surveys, managing aggregate stockpiles, and monitoring the progress of construction. The utilization of drone technology in large projects such as this are becoming more common than ever, and are being used for more as new innovations come to light. That has countless benefits, but it can also lead to logistical headaches in managing both the data coming in and the distribution to an increasing number of parties who need access to said data. Site Scan for ArcGIS was the software utilized by BBV to accomplish this with as few headaches as possible.
As time moves along, this kind of software is only going to become more prevalent and important for stakeholders in these kinds of large projects as drone technology becomes ubiquitous in construction surveying. According to BBV, we're already at a point where drone surveys are saving around €20,000 a year on monthly construction progress surveys for a single site. This is in the place of physical surveys, followed by manually updating CAD models. If applied across 80 sites in its first year, BBV estimates it could save around €1.6 million.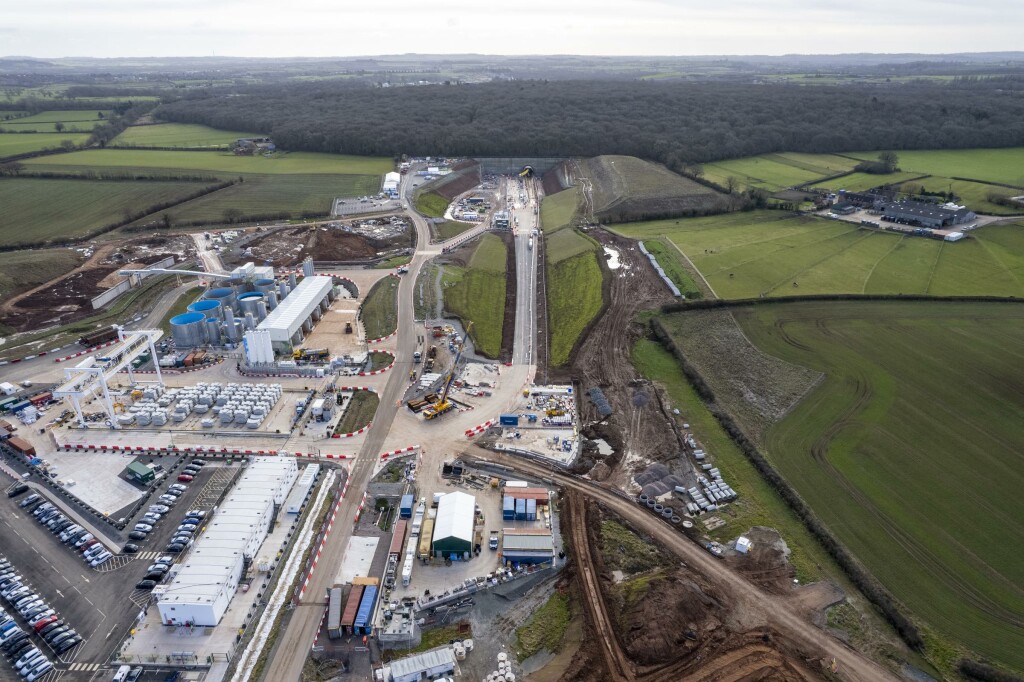 Additionally, using this technology and the accompanying Esri software, BBV has removed 800 "working at risk" days, and saved €30,000 per year from monitoring aggregate stockpiles. Using just a single drone operator they've been able to complete these tasks in just 20 minutes compared to the full day's work, often in steep and difficult environments, multiple contractors would require previously.
Site Scan for ArcGIS is Esri's software developed for collecting drone data and creating usable 2D and 3D imagery. The cloud-based product can be an end-to-end piece of software for projects utilizing drone scanning, and is able to be easily shared across parties to ensure all relevant stakeholders can quickly access any data that may be needed. The software is compatible with a number of different drone manufacturers, and to use it one simply needs to plan an optimal flight path and then execute the flight. From there, users upload the data to the cloud where it is processed and turned into 2D and 3D images that can be shared and analyzed however needed. The output can then be used for things like deep learning or put into Autodesk BIM 360.
BBV is a long-established venture between two of the largest infrastructure in Europe. Balfour Beatty is a firm based in the United Kingdom, while VINCI is headquartered in France, though both have done work outside of where they're based. The partnership began unofficially about three decades ago when both firms were part of the TransManche Link Consortium working to deliver the Channel Tunnel, and in 2008 they announced a formal alliance.
In utilizing the software from Esri UK, BBV is able to more effectively and efficiently complete their work in the Midlands region for the HS2 project. Innovation Director at BBV, Dan Fawcett, explained, "We needed the right software to manage an increasingly complex and varied use of drones and meet the needs of multiple teams, from logistics to site managers to engineers." He added that when utilizing this kind of technology on these types of major projects, "the ROI achieved is significant."