As the AEC industry has matured from CAD to BIM, Autodesk's software has amassed thousands of users who are using it to create detailed architectural models. Despite this level of digital adoption in AEC, some key challenges remain. There are frustrating barriers between different parts of the digital project lifecycle – from planning to design and construction to engineering to facilities management. The process of digitization itself has helped to break down some of these silos, but we're not there yet. By creating and hosting a central model to guide the entire building lifecycle, it may be possible to reduce or even eliminate some of the inefficiencies created by siloed data.
The next step in this evolution is the adoption of true digital twins, which are asset models that not only represent an asset in design and construction, but are continuously updated with new data that can help with facility management, occupancy, environmental optimization, power and utility usage, and other information-based decisions.
Earlier this month, Autodesk announced the future availability of Autodesk Tandem™, their digital twin platform, currently in beta. With Autodesk Tandem, all project models are brought into a single platform, creating a digital view of projects, along with metadata for each asset. Architects, engineers and contractors can then fully support a digital handover, giving owners a digital twin of the final asset.
Robert Bray, Senior Director & General Manager of Autodesk Tandem, said that the timing of the announcement aligns with the changes already happening within the AEC industry.
While the term "digital twin" can vary in industry vernacular, Autodesk defines a digital twin as a dynamic, up-to-date replica of a physical asset that brings together design, construction and operational data. It is more than just a digital model, the addition of real-time operation data provides digital twins with added value – providing an awareness necessary to simulate, predict or inform decisions based on real-world conditions.
Last year, Autodesk became a Founding Member of the Digital Twin Consortium, an organization collaborating on digital twin best practices and standards, and a member of the Open Design Alliance, a nonprofit technology consortium that provides support and access to design file formats. While Autodesk has worked towards a unification of architecture, engineering and construction, they had yet to create a commercial digital twin product – until now.
Aiming to support the needs of asset owners
Autodesk Tandem was created to help owners and operators receive deliverables from design and construction that are ready to use, says Robert Bray, Senior Director & General Manager, Autodesk Tandem.
"The workflows around Autodesk Tandem are about starting with the end in mind – working with the owner early in the planning process to find out what outcomes they are trying to achieve, what data requirements they have, and how they hope to manage that asset effectively… Then capturing that in a facility template that can connect with our authoring platforms (like Revit, BIMCollaborate, etc.) and through the design and construction process."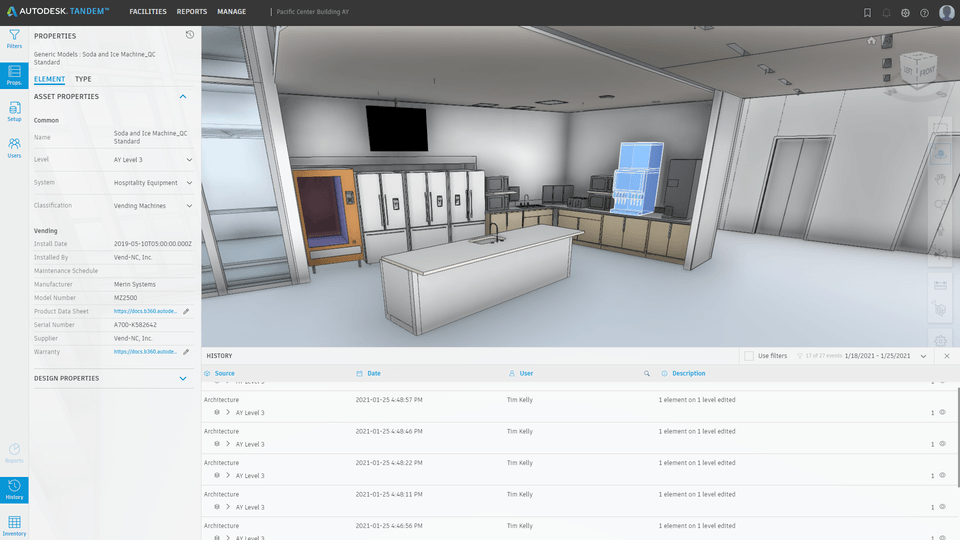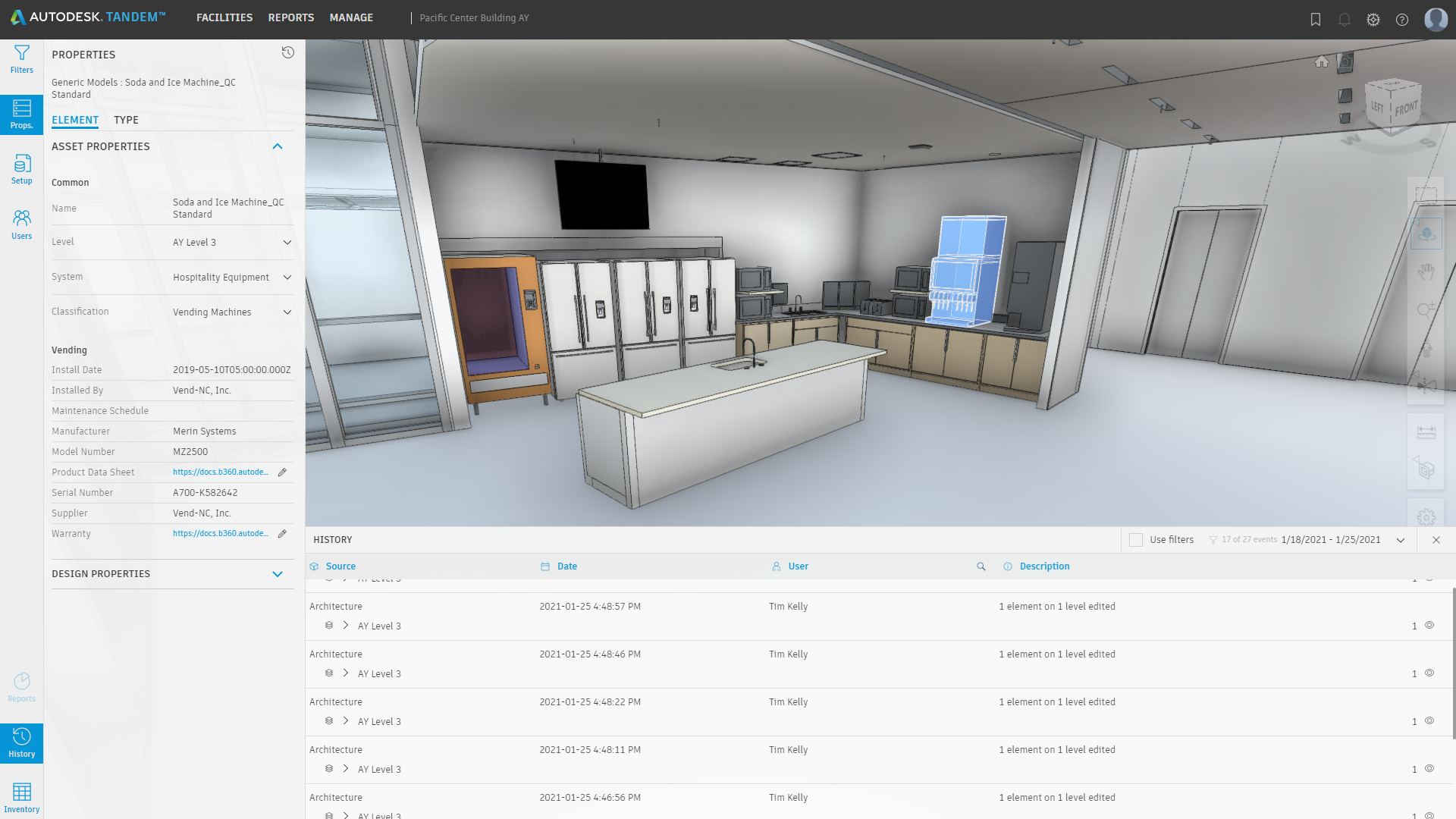 Autodesk Tandem is designed to allow building projects to start digital from the planning phase  and then move seamlessly from design to construction to operations, with the ability to add-in real-time or near real-time data to provide insights into building performance. Tandem harnesses the information from BIM to serve as the foundation for a digital twin. By keeping this data digital, the project team is able to hand over a comprehensive digital asset that is ready for owners to query and build upon for their own operational needs.
"We've been watching this space for some time. There have been conversations in the AEC industry for years about how we really need to do a better job of starting from the planning phase with the end in mind, and beginning by understanding what we want to deliver to the owner," added Bray.
The launch of Autodesk Tandem is a milestone for Autodesk toward encouraging users to create digital twins. Tandem has additional potential in helping to deliver more value to downstream customers, post-handover. With a digital twin, the transfer of documents at handover doesn't have to happen months later, but can consist of a complete digital model of an asset, which can help owners to more quickly move into facilities management, training and other tasks, says Bray.
"At handover, the owner then has a built digital representation of that facility, and they have confidence because it has already been through a validation process. They can use [the digital twin]to really accelerate their operational readiness."
As often as we talk about AEC professionals being separated by disciplines, the same can also be true on the owner side. Owners have computerized maintenance management systems, asset management systems, and building management systems that may also be collecting data with sensors, but even these systems can be disconnected from one another, says Bray.
"If Autodesk Tandem can deliver a digital model that has the asset and space definitions… then [owners]can tie that other information in, and we can provide context for all of those other system activities."
"In the end, it is really about the value of that data, and unlocking it; making it accessible from beginning to end."
Call for AEC professional involvement
The launch of Autodesk Tandem is currently in beta, and Autodesk has  opened a Beta Community for  users. Users who join the Beta Community are invited to participate in monthly presentations and webinars, take part in periodic polls and surveys, contribute to forum discussions and receive regular updates and provide feedback prior to launch. Users who join the community will also have the option to become a Beta Tester where they will have an opportunity to test and provide feedback on a beta version of the Autodesk Tandem product.
To join the Autodesk Tandem Beta Community visit https://feedback.autodesk.com/key/tandem-apply.