This week, Autodesk held their annual user and partner conference, Autodesk University, at the Venetian in Las Vegas, Nevada, where they announced a number of new innovations, products, and updates. Among the biggest announcements the company made throughout the week was the introduction of their new Autodesk Workshop XR product, bringing VR capabilities to the design review workflow. They say the new tool, which is connected to Autodesk Construction Cloud, will empower teams "to review 3D models and their data from anywhere, resulting in better decision making and more profitable and sustainable projects."
This new introduction of Autodesk Workshop XR – which, along with Autodesk Construction Cloud, is part of Autodesk's Design and Make Platform – has been made for architectural and design firms to improve workflows for design review. The offering provides a way to get true spatial recognition of a design in three dimensions to help with tracking issues and catching errors as early in the process as possible.
In their announcement of the news, Autdoesk called out three key capabilities unlocked with Workshop XR. The first was to create a dynamic virtual workspace, allowing teams to "dive into the details and analyze the intricacies of their designs." They also note no-prep model loading, with the offering allowing models to be streamed collaboratively in real-time. And finally, and perhaps most importantly, is the full connection to Autodesk Construction Cloud to create a single source of truth even within this virtual environment.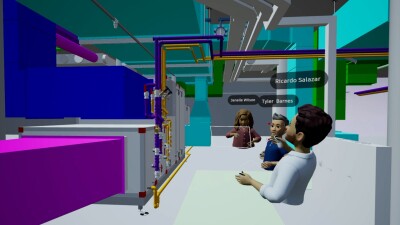 "With Workshop XR, AEC teams can walk through models at a one-to-one scale to gain a shared understanding of how project data will translate to the real world," Nicolas Fonta, senior director and general manager, XR at Autodesk, said in a statement. "This will benefit our customers' bottom line—and the planet—by driving better design decisions, reducing waste and rework costs, and cutting down on team travel."
With this being a new release, there are still some things that are missing from the product that some users may be looking for, though there was indication throughout the week at Autodesk University that they are aware and could make adjustments moving forward. For one thing, right now Workshop XR is available only on Meta-branded headsets – the Quest 2, Quest Pro, and Quest 3. However, they have said that they will look towards customer feedback and could add compatibility for other headsets, both those available now and potentially others released in the future.
"Meta's collaboration with Autodesk brings our collective vision for the future of work to life," said Jamie Keane, director of product at Meta, in a statement. "Meta Quest headsets and Meta Avatars offer a secure connection to Workshop XR that takes on a new dimension of collaboration and presence. This immersive experience transforms the way teams work by boosting creativity and expanding the possibilities of what can be achieved."
Additionally, right now this offering can only be used with others within virtual environments using headsets. In other words, there is currently no application available for those who would want to join these review meetings in a desktop setting. This can be important, as not everyone wants to wear and/or purchase a headset, particularly if they're not necessarily involved in all of these kinds of meetings. That said, based on conversations in Las Vegas it does seem clear that Autodesk will address this in later updates to Workshop XR.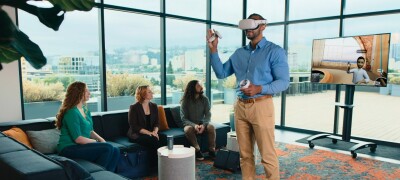 While there is still skepticism around the value of XR, particularly involving headsets, in the AEC industry, it seems clear that momentum is still trending towards its usage. Even just walking around the expo floor at Autodesk University, you could see XR products everywhere you looked. This kind of offering, designed for those in the office for design reviews, seems like a great place to start. We know that designers can get more out of a 3D model than a 2D drawing, especially for catching errors, and being able to see that model with spatial context should only improve those efforts.
"Workshop XR will transform how architects and building engineers plan and review projects," said Fonta. "Most building projects that go over budget do so because issues are discovered once construction has begun. We've heard many customers share the challenges of reviewing designs across dispersed teams."
"We're excited to see what the AEC industry will achieve when equipped with Workshop XR," he continued. "Facilitating more effective and efficient design reviews will have an impact beyond client satisfaction; it will bolster innovation for the future of our homes, communities, and workplaces."
Workshop XR comes at a cost of $1,075 per named user per year.