Last month, lidar developer and manufacturer Artec 3D announced a new metrology-grade laser scanner, the Artec Ray.
Designed for reverse engineering, construction (BIM), inspections, product design, forensics and heritage preservation, and priced at around $60,000, the Artec Ray is an accessible and convenient 3D data capture solution with a battery that lets you scan both indoors and outdoors for up to 4 hours.
By featuring Artec's no-targets-required 3D scanning technology, which removes the need for sticky markers or other tracking aids, the scanner can easily digitize large objects ranging from buildings to wind turbines to airplanes. It features a scan range of up to 110 m, with less than 0.7 mm ranging error at 15 m, an angular accuracy of 25 arcseconds, and two fully integrated 5-megapixel cameras for color.
Although it's not a handheld solution, the Artec Ray is a compact and portable stationary scanner with a weight of only 5 kg. It is also simple to use, as it can be set up in front of an object and, at the press of a button, it scans and processes data directly in the Artec Studio software. This software seamlessly exports to programs such as Geomagic Design X, SOLIDWORKS or ReCap for reverse engineering or design and construction documentation. In addition, the Ray scanner is also capable of producing point cloud formats (PTX and BTX) for  wider range of application-specific software.
Geomagic integration
Speaking of the Geomagic software, in more recent news, Artec announced an integration of the company's handheld scanners with 3D Systems' Geomagic Freeform. This means owners of Artec scanners now have the possibility to capture anything directly into Freeform, where users have access to a variety of advanced design capabilities including touch-based 3D sculpting, surfacing, design-intent modeling, 3D scan processing, mold making and CAD interoperability.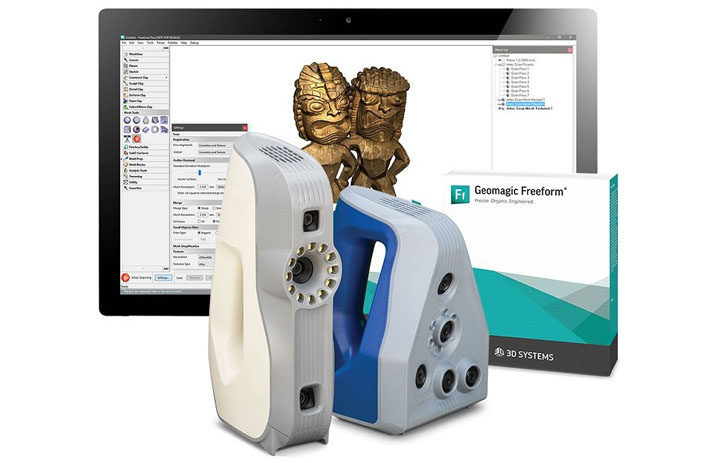 "The new integrated bundle of our professional, handheld 3D scanners and the Geomagic Freeform platform delivers an extremely efficient workflow," said Artyom Yukhin, president and CEO of Artec 3D. "Whether you want to capture and replicate an existing object as-is or use it as the basis for an entirely new design, our scanners can provide a high-quality detailed 3D model to use as a starting point. This eliminates the time, cost and possibility of error associated with digitally recreating the geometry of organic objects from scratch."