Vectorworks 2018 is a BIM program that works as a single, flexible solution for an entire design process. Their focus on design and how that design can remain an essential element throughout an entire workflow is part of what makes their solution as distinct as it is powerful, as users can sketch, draw, and model in a fully integrated BIM workflow. Their 2018 updates have streamlined the creation of schedules and improved graphic output, but this version allows users to take the essence of the design process to a whole new level.
At the AIA Conference on Architecture 2018, the Vectorworks team showcased some of the new features in this latest version of Vectorworks, which incorporates augmented reality (AR) capabilities. It's an improvement that has allowed users to immerse clients who want to get a real sense of what a project will look like. AR allows users to project Vectorworks models into real-world spaces so that clients can view and interact with a design before anything is ever decided or built.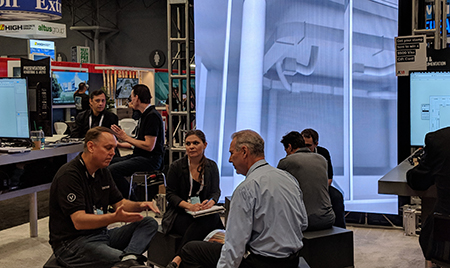 For Vectorworks, creating this capability was really about making AR capabilities useful in a new way. AR has been applied for presentations for years now, but these new capabilities bring the concept of interaction and collaboration to a whole new level. Users can interact with and adjust a model in countless ways, and doing so allows them to understand the ramifications of what it will mean to actually change or adjust that model. Ultimately this capability is a tool for decision making, and it's one that allows architects to approach their work on a different level.
"We're allowing users to really shape the experience in a space," Rubina Siddiqui from Vectorworks told AEC Next News. "It's not about lessening the vision of an architect, but allowing everyone to access that vision in a more powerful way."
These AR features are just the beginning though, as the company has already said that it will continue to make enhancements based on feedback as more and more users begin adopting it.
To find out what else is new with Vectorworks 2018, click here.