Dodge Data & Analytics had one of the bigger presences on the show floor of the AIA Conference on Architecture 2018, and it's easy to understand why. The company is dedicated to helping AEC professionals identify, prioritize and act on the best construction opportunities with the most trusted data and tools in the industry. It's something that began and continues with their market forecasting and custom research but is evident in a more active manner with Dodge Construction Central.
The genesis of all these developments and capabilities goes back to a desire on the part of Dodge Data & Analytics to provide an information service for architects, which began in the pre-Internet days. Using the tools that are available now though, the company can provide an understanding that raises business intelligence by supplying contextual information to take a design all the way through the chain.
These needs and understandings are an inherent part of Dodge Construction Central, which delivers deep intelligence to project stakeholders from the cloud. The platform is designed to simplify the design and construction process in order to reduce the noise that project stakeholders are dealing with. It easily enables integration, can be tailored to what users want and need all while making the information available to anyone, anywhere.
"We're all about finding the answer to the question of, 'how can I make this work,'" Stephen Jones from Dodge Data & Analytics told AEC Next News. "Can we boil this down to the essential elements, and work through the real challenges? That's really what it's all about."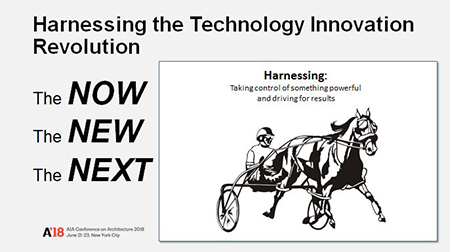 For Jones, these details enable users to harness the technology innovation revolution, and that was something he specifically detailed in a presentation at the AIA Conference on Architecture 2018. He discussed how and why doing so can be positioned in terms of the "Now", the "New" and the "Next".
Organizations are all at different phases of this three-step process and have different expectations and needs around where they should be in it. Understanding what goes into each step is the only way that AEC professionals can ensure they're working in an efficient manner while also staying ahead of the competition.
The "Now" phase is about implementing BIM requirements so all project teams are BIM-capable. BIM can't just be thought of as something in a firm, but instead as something used on projects. Stakeholders need to make an active effort to drive adoption and establish BIM requirements. Doing so has proven to enable better business outcomes, and it's an essential element when it comes to realizing the potential of the efficiencies that this technology can enable.
Moving into the "Next" phase is all about establishing integrated digital workflows. These workflows allow everyone from the designers to the installers to speak the same language around what is and needs to happen on a project. That can only happen when everyone has the same understanding of what is and should be happening with it, and there are tools that specifically enable these kinds of efficiencies and capabilities.
The final "Next" phase is about embracing generative and computational design. This process opens up capabilities related to optimizing a solution within parameters and constraints so that certain avenues and decisions can be eliminated, and better decisions can be made. Computers are going to keep driving choices, but humans are going to remain in control and make judgment calls when it comes to final decisions.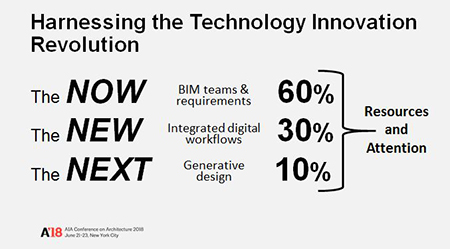 These principles can be seen directly and indirectly in the Dodge Construction Central Platform, all of which are about creating better outcomes in the present and enabling the potential for even better results in the future. Concepts like generative design might seem out of reach for anyone still struggling with BIM logistics, but understanding where things are going is the only way anyone is going to get there. Working through these phases requires a different level of commitment for each, but doing so is essential. It's only a matter of time before clients and project stakeholders expect to see generative design incorporated into everything.
The adoption of new tools and techniques isn't something that can happen overnight, which means it's always going to be a process. That makes understanding where you are and need to be around these questions of "Now", "New" and "Next" essential. The better outcomes that are and will be created are changing things for individuals and organizations as well as for the AEC industry as a whole.