As more surveys, point clouds, scans and meshes are produced each day, the need to be able to view, assess and organize that data becomes more crucial and urgent. Some surveying companies and businesses have addressed this problem by trying to set up their own internal portals to grant access to project data and documentation. While this may be effective for some documents, these bespoke portals rarely contain direct access to view imagery and 3D models in situ.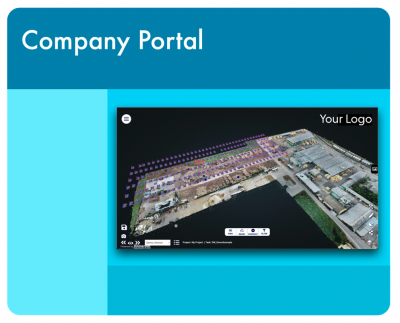 3DUserNetVISION specializes in creating usernet spaces for 3D and 2D projects – the core of their solution is a powerful visualization platform for viewing point clouds, LOD meshes, HD imagery, 360 panoramic captures, models, maps, documents and video. Users can view and collaborate on files and imagery, with the ability to share to external stakeholders.
In a new launch, 3DUserNet has announced VISIONIntegrate – a tool that brings their viewing technology into a company's own existing portal.
VISIONIntegrate offers the opportunity for companies to add their own branded viewer into an existing portal, and provide customers and stakeholders means of viewing and exploring the data within it. Whether sharing 3D point clouds, models, imagery or mesh data, the deliverables created with this data can now be easily integrated and shared.
Additionally, customers on the receiving end of the visualizations are able to make measurements and annotations, access and download additional project documentation, and take snapshots to share with others – all without additional logins.
Why a usernet?
Usernets can be created to grant access to any number of people, to view and work on projects in a self-contained group. Three user levels and permissions can be assigned (down to the individual project level), which makes it easy to control access appropriately among teams. 'Viewer' level users are best for survey or client company management, and other stakeholders, with their permissions allowing them to view the latest saved version and some limited markup and temporary measurements. 'Creator' level users can only work on data already uploaded by a publisher, and has full creator and collaboration functionality, including the ability to set up tasks. 'Publisher' level users are those that upload the projects and original data to the usernets, and controls permission and data access for other users.
Getting started with VISIONIntegrate
To get set up, a company first creates a 3DUserNetVISION account, and makes/upload a project. They can then generate a specific 'share URL' that can be integrated into an embedded iFrame on the company's portal. The resulting embed allows for full 3D Navigation and viewing of 2D assets without leaving the company portal site.

Costs are set by a 'pay as you go' structure based on the size of the data in each project each month– starting at £12/ €14/ $15 per month for up to 50Gb and rising in bands up to 2Tb.
For more information, visit the VISIONIntegrate page on 3DUserNet's website.