Partnership to help mainstream 3D printing
3D Systems announced Thursday it signed a multi-year deal with North America's largest producer of chocolate, The Hershey Company, to co-develop 3D-printed chocolate products and other foods as well as commercialize a new class of prosumer 3D printers for edibles.
Financial terms of the deal were not disclosed. Chuck Hall, 3DS CTO, said partnering with a world renowned food brand such as Hershey will help mainstream 3D printing.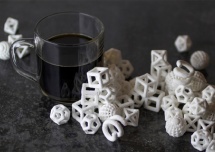 "Whether it's creating a whole new form of candy or developing a new way to produce it, we embrace new technologies such as 3D printing as a way to keep moving our timeless confectionery treats into the future," said William Papa, chief research and development officer for the maker of Reese's Peanut Butter Cups.
Just last week at the 2014 Consumer Electronics Show (CES 2014) in Las Vegas, 3DS debuted its ChefJet line of "kitchen-ready" 3D printers for edibles. The first two printers in the series are the monochrome, countertop ChefJet 3D printer and the full-color, larger-format ChefJet Pro 3D printer.


Both are slated to hit the market in the  second half of 2014. The ChefJet 3D will be priced in the sub-$5,000 range and the ChefJet Pro 3D will sell in the sub-$10,000 range.

VIDEO: 3DS rolls out ChefJet at CES2014