MicroSurvey uses Blue Marble's Global Mapper v15 for land surveying industry
MicroSurvey Software Inc. has rolled out a new version of its desktop survey and design software, MicroSurvey CAD 2014, adding new functionality for geospatial data and featuring Blue Marble Geographic's Global Mapper v15 software supporting more than a hundred elevation, imagery and vector formats.
"A vast world of geospatial data is steadily becoming more accessible," MicroSurvey's Brian Sloman, desktop product manager, told SPAR. "From free access to shapefiles, aerial photographs, and WMS servers being provided by many government agencies to commercial services [such as]high-speed WMS access to high-resolution aerial photography – all of which can now be viewed directly within a MicroSurvey CAD drawing."
West Kelowna, British Columbia-based MicroSurvey, owned by Switzerland-based Hexagon AB, also the parent company of Intergraph Corporation and Leica, headquartered in Norcross, Ga., is a developer of surveying and mapping software for the surveying, construction, and public safety markets.
The new features, and emphasis on manipulating geospatial data, were added based on customer feedback via MicroSurvey's online user's request system.
"A few years ago we implemented a new user-driven feature request system. Users can visit our website, log their requests, and vote or comment on other users' requests," Sloman said. "This system confirmed the growing need for new and improved geospatial capabilities among our users."
Video: MicroSurvey CAD 2014 – Geospatial Data and Imagery
Integrating Global Mapper
Sloman said MicroSurvey added the Global Mapper SDK to its least-squares network adjustment program, STAR*NET, last year, giving users the ability to enhance network plots with Shapefiles, GeoPDFs, raster Images, and hundreds of other file formats. Global Mapper also allowed users to stream web-based imagery and data from online WMS (Web Mapping Service) sources and various other server types that have gained recent popularity.
"Global Mapper is a well-known and trusted product in the land surveying industry, so we knew our users would be able to embrace a new feature that brings together the power of these two products," Sloman said.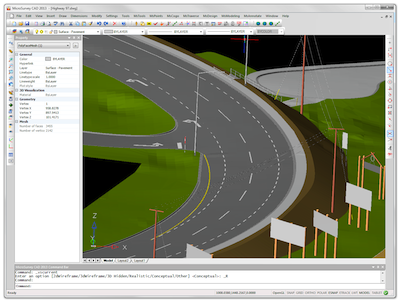 Maine-based Blue Marble, known for its coordinate conversion and file format expertise in the surveying, mining, civil engineering and oil and gas industries, released its latest version of Global Mapper earlier this month, featuring a new mathematical raster calculator and lidar analysis tools, among other features.
The new raster calculator in Global Mapper SDK v15 features mathematical operations for extracting and leveraging a variety of information from multi-band imagery.
"With the rapid improvements we've seen lately in 3D scanning technologies, the ability to work with point clouds has become another important part of today's land surveying toolkit," Sloman said. "With Global Mapper introducing new lidar analysis tools into their SDK, we can continue adding powerful new functionality into future versions of MicroSurvey CAD to provide land surveyors with the tools they need."
Another feature of MicroSurvey CAD 2014 is the "2D Draw Mode," which causes all points to be drawn at z=0 while maintaining their true elevation in the coordinate database.