By Adam P. Spring
Cloud or distributed computing continued to change the face of the geospatial sector in numerous ways in 2015.
Decentralized workflows
At the heart of it all were decentralized workflows. Information and communication technologies (ICT) such as smartphones and tablets have changed the way in which location-aware information is generated, manipulated and distributed.  (This is something I discussed in an IEEE Computer article published in February, as well as an Autodesk AEC podcast interview in August.)
ICT have essentially changed the ways in which information is transmitted and received. There has never been an easier time for digital sensors to be used on the move. Processing information in "the cloud" has freed up processing power. This, in turn, created the ideal conditions for decentralized workflows.
The market that continues to develop around handheld 3D-imaging solutions offers up good examples of such processes in action.
Sensors and sensing
While point cloud savvy users still waited to see what Google would do with its Project Tango devices, Trimble was one of the first geospatial companies to introduce them into construction-based environments. Advocates of emerging technologies at Trimble, such as Omar Soubra, led to Tango being incorporated into SketchUp-based workflows for BIM. With these workflows, the same device used to collect data was also being used to process and disseminate information on site as well. Trimble even went one step further by the end of 2015 by seizing on the workflow potential of Microsoft's 3D projection-based HoloLens glasses.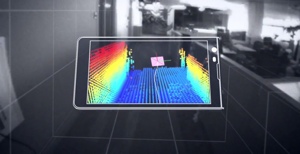 Google's Project Tango
In short, the future of infrastructure and asset management is all about experience–using technologies that enable better communication within a project work cycle. Included alongside this was an emphasis on the real time experiences of users in the field, as well as how these experiences could be used to inform the actions of other team members back in the office.
Since distributed computing means all types of media are on (and communicating with each other) at all times, this provides the opportunity for more instantaneous project management based workflows. An example of this was Project Alexandria, an Autodesk product rebranded as BIM360 Doc in December 2015 due to user demand.
Summary
Adena Schutzberg was one of the first industry analysts to consider trends that eventually fed into distributed computing. In a Directions Magazine article in 2005, she described these trends as being linked to GeoICT. Schutzberg does more than outline some of the outside forces influencing the geospatial sector (at that time, she cited the development of Google Earth as one of her external agents). She foresaw the value of open source code in location aware user communities as well.
For more information on how open source code goes hand in hand with distributed computing, I recommend following this link to The Golden Age Of Open Source Has Arrived. The sharing and distribution of information will only become more frequent in 2016. It enables hardware and software developers to better understand end user requirements and, in doing so, enables them to create better services and solutions.
Adam P. Spring has been working with 3D imaging and design technologies since 2005. He also classes himself as a user communicator, who has published in number research and industry publications. His website is remotely-interested.com. He also has a podcast about technology and people on SoundCloud.