During the last week of November I had the pleasure of attending the Capturing Reality Forum in Salzburg, Austria. Capturing Reality is a reconfiguration of the conferences formerly known as the European Lidar Mapping Forum (ELMF) and SPAR Europe, and so has flavors of what can be found at both the ILMF and SPAR conferences that are familiar to many in the US. For most global and European vendors and service providers of geospatial imaging technology, this was still the event to be seen at. As a Brit based in Canada who also has a sizable European client base, there was much that was familiar. There were however, trends in how the event operated this year that were of note.
Does everyone have a drone?
One trend seen on the exhibition floor was the relatively low proportion of stands that were solely UAV focused. This is in contrast to both SPAR and ILMF where there has been a 'UAV pavilion' in recent years. Does this mean that there is no market for UAVs in Europe? I would perhaps say not… instead this could be a function of relative market maturity. Those of us who have attended 3D imaging events over the last decade will have seen the trend of mobile mapping vehicles being present at such events come and go. We are also seeing an increasing number of UAV-only events. While speaking with colleagues over lunch, it became apparent that many organizations were not considering purchase of their first UAV platform rather, they had already purchased their second or more.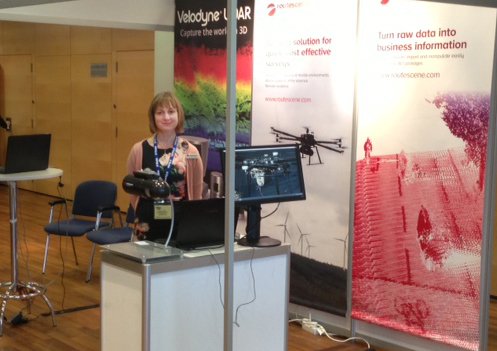 Routescene might hope everyone is operating a UAV, and fitted perfectly in the Capture Reality Forum landscape of delivering sensor-based solutions that increase productivity (photo source: @Routescene)
In keeping with the underlying focus of the conference on 3D imaging technology, it was good to see steady interest in sensor-integrators such as Routescene and Yellowscan. These may be relatively new names to our North American based readers, but are already established suppliers on the European side of the pond for providing lidar-based sensor solutions for UAV platforms.
How do you handle the data?
A clear trend that has resulted from the proliferation of imaging platforms continues to lead to an increased emphasis on data management tools. We saw solutions for fast conversion of data into usable vectors or the streaming of raw data into a range of software environments; also for a closer integration of field data within wider documentation (e.g. BIM related) procedures.  hese types of activities show an increased recognition of the role that 3D imaging plays in being the necessary capture tool, but not necessarily the provider of all the answers.  A customer needs to see the information that is relevant to their business questions in a timely manner. One presentation that I particularly admired was by ClearEdge 3D where the results were presented from early development of a tool. While not due to be released in beta until mid-2016, the tool has been designed to fulfill requirements spearheaded by the US Institute of Building Documentation (USIBD) that wish to verify the as built standards in a building model.
Awesome networking!
Finally, credit needs to be given to the organisers of the Capturing Reality Forum for continuing to put together an event where attendees want to come to do business. Sometimes conferences are organized in sprawling venues where it can be difficult to make contact with attendees unless you have made prior arrangements. One comment that I have seen on the social media feeds upon returning home was from a survey service provider who mentioned that within five minutes of arriving at the event, they were talking about the finer points of a new project contract. I must admit that from the point of view of my own business, I had very similar experiences. A compact venue, delicious food and continuously available espressos meant that you were never far from your contacts. Indeed, if you provide services using technologies in the 3D imaging industry in Europe, if you were not Capturing Reality in Salzburg, chances are you were missing out…