On July 10th, I attended the Canada BIM Council's (CanBIM) Regional Session here in Toronto, titled "Technology Built Innovation; CanBIM Software and Hardware Regional Session and Technology Exhibition". With over 280 registered delegates and 30 exhibitors, the agenda kept us on our toes with a full day of 50-minute sessions, often across three tracks.
As the title indicates this event presented a special opportunity for technology vendors and solution providers at all stages of the BIM process to present their perspective and offerings in a series of quick-fire sessions. As I came to understand, the briefing to all presenters was that the CanBIM committee wanted the only subjects to be discussed to be 'innovative'. No projects or company histories here.
Basics
Before discussing technology, I thought that the opening to the CMMS panel session was particularly innovative and captured what the BIM process is all about.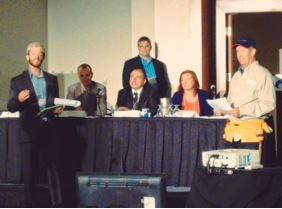 The Architect and the Site Superintendent provide their perspective
With characters that included the Architect, Site Superintendent, Trades person and IT Manager, they conducted a role-play that illustrated the different objectives and communication channels between different job roles through the construction process. While we work in very IT-centric environments, an over-riding purpose of the BIM process is to enable companies, stakeholders, at individuals at all stages of the construction and management of a building to access the information that they require to communicate better and perform more efficiently. Through the well-executed stereotypes portrayed in this session opening, an innovative twist was added to the presentation of the traditional conference panel format.
Innovation
Considering innovation in technologies presented, special mention needs to be given to Ernest Yap, co-founder of his new Toronto-based startup ShapeTrace Labs.  He has brought knowledge of metrology and geomatics into the construction industry, using them as a way to mitigate risk.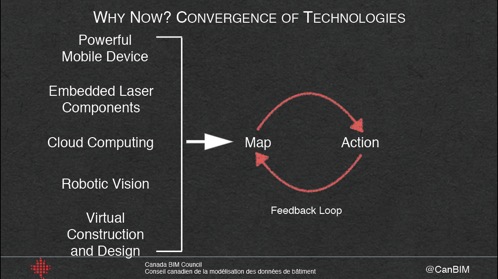 The ShapeTrace feedback loop: data is captured and integrated with existing site information to reduce the likelihood of error in a build
If you read my first blog post for this year's SPAR conference, you have seen my view that the valuable advancements in 3D imaging are not necessarily in the area of providing data of ever higher resolution or accuracy, but instead in providing capture systems that can be used by non-specialists to quickly and efficiently identify gaps in existing information about a site.
Along similar lines, the ShapeTrace solution is essentially a cloud-based platform that permits contractors to use a variety of hand-held scanning technologies, such as those that can be attached to a tablet and used in a similar way to taking photos with a smartphone, to identify in the field if there errors in a build relative to the initial design. The basic premise is that this feedback process enables errors to be corrected before they become BIG issues that would otherwise be dealt with in the claims process at a much higher cost. The fact that the process is designed to enable a Construction Manager to perform the data collection task, rather than a specialist Surveyor, only goes to providing the potential for this feedback loop to perform at a cost and speed that makes it valuable to the users during a build.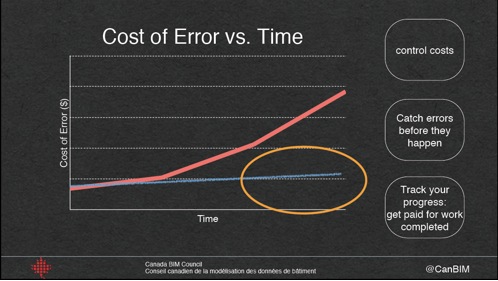 The value of catching errors in the ShapeTrace proposition. The blue line represents the project using ShapeTrace.
For the magic portion of the meeting–an impressive augmented reality solution that everyone was talking about–look out for my blog post next week.