Having spent over 14 years working in metrology and geomatics, in roles ranging from Research Scientist, Technical Consultant through to Global Sales Manager; Will Tompkinson is now Owner and Consulting Lead for Insightful Dimensions. Will provides international experience and perspective to clients who are deciding how to implement game-changing technologies such as UAVs and mobile mapping solutions to improve the bottom-line of both their operations, and that of their customers. While technology providers continue to strive to provide tools that are faster, lighter, higher, this blog aims to look at what the implications might be on the value of a firm's solutions.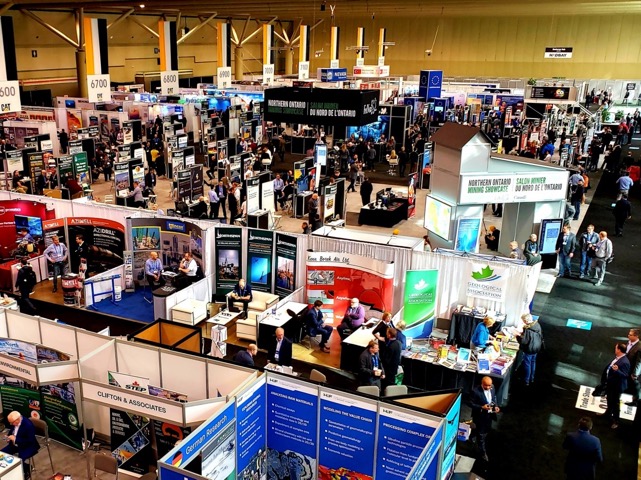 One of the themes in my previous report from SPAR 2015 was the commoditization of 3D capture and imaging systems. Given that SPAR has now been running since 2004, its not surprising that much of what's presented at the conference uses technology that is some way over the adoption curve. We could consider it to be common sense messaging. But the presentations at this year's event have also reminded us to consider adoption within the businesses of our customers in addition to our own.
Customer Adoption
In a municipal infrastructure-related business considerations session, the first presentation by Joerg Bierwagen from Ingenieurbuero Christofori und Partner reminded me that our customers still may not think in 3D. Within his presentation, he illustrated the results of projects that provided documentation for heritage sites (including the subway system) across the city of Nuremberg in Bavaria, Germany. These results, as requested by the client, consisted mainly of detailed 2D elevation drawings, which provided dimensions of principal architectural features or even the brick-by-brick level of detail. In the concluding remarks there was discussion about how it could be 3-4 years before the local administrations would begin accepting 3D deliverables.
What I took from the presentation, though, was how our rush to try the newest next generation scanner or automated software workflow often causes us to overlook the value already provided by the pervasive use of 3D imaging technology. Mr. Bierwagen presented the example of a church that was scanned prior to facilitate a re-build after fire damage—what better and more efficiently captured record of a structure is there than the one produced by 3D scanning? While the deliverable might be 2D elevation, how else, other than using 3D scanning, would an architect go about producing a true as-built representation of a historical building?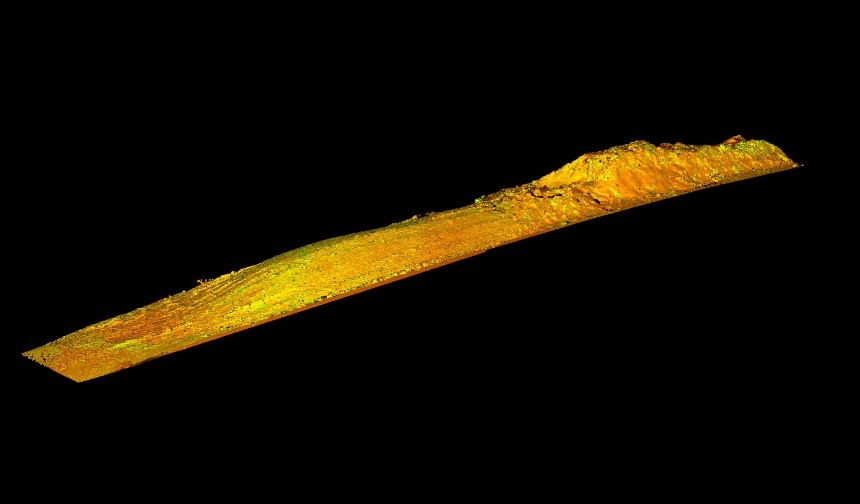 There might be consternation that the client of the subway station projects was talking about 'BIM' and requiring 2D drawings in the same breath, how else would we go about surveying that base data for this project? (This is of course before we launch into a discussion on whether BIM is 3D modeling…)
While we might wish for our customers to let us bill-out the work necessary to produce the most sophisticated 3D model, I thought that Mr. Bierwagen's conclusions, stressing how important it is to produce deliverables that "speak the customer's language" only further illustrated how well 3D imaging had been adopted in these 2D project examples.
Adoption in Your Own Business
When at conferences such as SPAR we hear about the latest hardware and software offerings from the vendors, together with case studies from early adopters on initial client or demo projects. However, Joseph Ramano of Langan Engineering addressed something that we frequently overlook in the public forum, which is the process and business case for internal adoption (in this case of a mobile mapping system).
How does an established firm with a long and successful track record make sure that they do not get left behind? Well, according to Langan, you want to adopt a new proposition that is well supported by your vendor, yet just early enough in the lifecycle of the technology that you are still making money. Then you want to draw up your wish list. In Langan's case it included portability and applicability to service projects located at sites as far away as the other coast of the US or the UAE. Following this comes the next stages of investigation and due diligence: an internal champion evaluates the vendors, the company discusses with colleagues in the industry, rents some systems and tries them on projects. They might even create buzz by communicating in the marketplace in a manner that sounds like the solution is already implemented.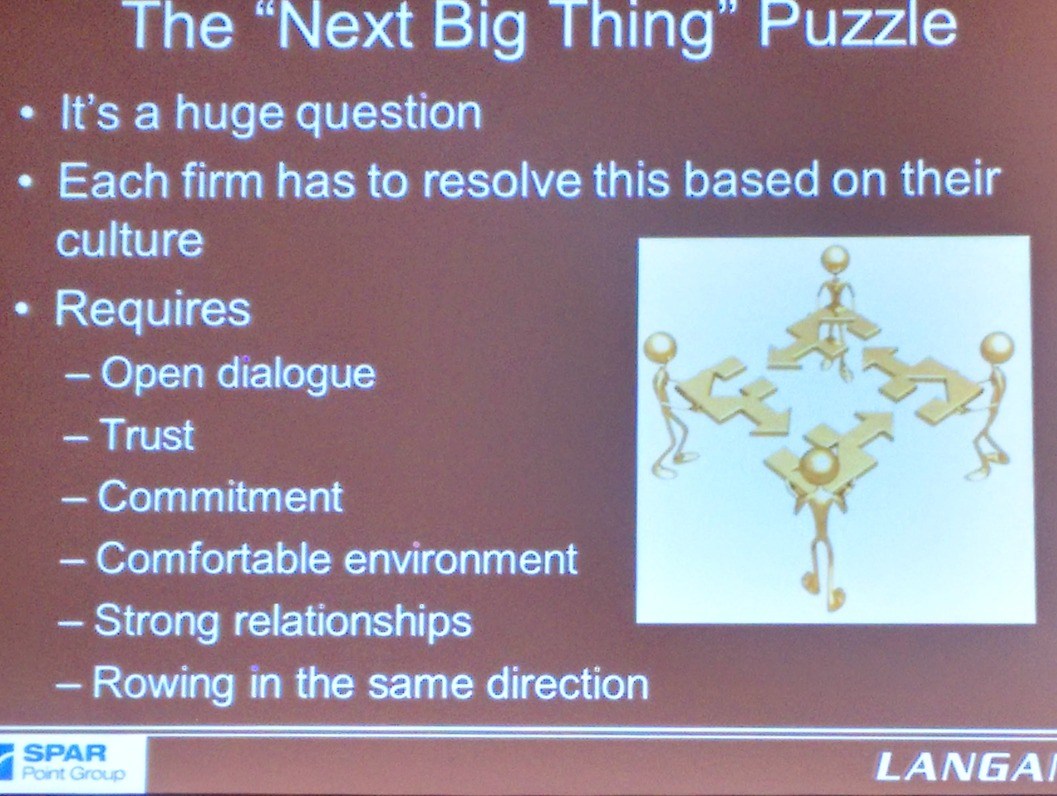 What struck me most about Mr. Ramano's presentation, though, was the importance of open dialogue in a firm's investigation phase before making an internal commitment to "row in the same direction" when adopting something new. Little reference was made in the talk to accuracy assessments or the types of new products that will undoubtedly be produced after making this investment.
We work in industries where our customers often need to be persuaded to accept the new services that we would like to bring to market. Langan's message was simple – internal trust is necessary before we are able to adopt anything or bring it to market. In Langan Engineering's case they have found a better way to service their established customer base with deliverables that they know fit with their business.