"Silly" season has been a bit busier than usual this year. Now that we've had the time to look back at Intergeo, here are some takeaways.
A 15% increase in exhibitor space and over 16,500 visitors, Intergeo 2015 in Stuttgart proved to, yet again, be THE geoinformation world event to see and be seen at. I was there for about 2.5 days and there will have still been items that were missed – especially the outside exhibits. What was clear though, was that while there were not the industry-changing unveiling presentations such as when the first mobile mappers were launched, or when the Faro Focus was first seen; there were some interesting approaches to increasing brand awareness other than stands full of brochures.
The Z+F 'Blimp'
What greeted me when I first arrived was the indoor airship emblazoned with Zoller+Frohlich's logo. Wonderfully straightforward. Not only does a vessel like this already have connotations of remote sensing that jibe well with the geoinformation audience, but as an unmanned aerial vehicle (UAV) it highlighted what was the obvious technical trend of this show. This is true even though I did not see Z+F offering any technologies directly applicable to UAVs this year on their stand.
Speaking sessions – education, education, education?
There seemed to be an increased number of stands that featured recurring speaking presentations. In addition to those related to QGIS and the open GIS communities, Arithemtica employed this format again to provide Pointfuse demonstrations to the masses. This year also saw UAV speaking presentations on the exhibition floor, in addition to many other exhibitors taking to the microphone.
UAVs – Aibotix, Sensefly (more realistic?)
UAVs made surveyors and scanning specialists more concerned with flight regulations than they might have been otherwise. However, the size of the UAV means that it is possible to show the technology live and in motion. Inside the exhibit hall both Aibotix and Sensefly held indoor flight demonstrations within protective cages. What I liked best was how Sensefly had their eXom inspecting the simulated crack in a concrete slab.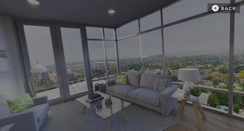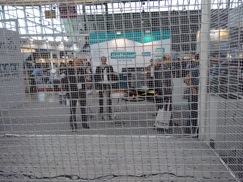 3DSurvey – Photogrammetric marketing
For all the impressive UAV demonstrations, one of the most relevant items of marketing must have been from 3DSurvey as they promoted their UAV photogrammetric software–without flying a UAV.
They used the landscape from a model train-set (complete with moving train!) and took advantage of the fact that we all walk around with our smartphones in our pocket. The landscape model was littered with small ground control points. With our camera-enabled phones, we were invited to take pictures across the model-train landscape in an overlapping pattern that simulates that of an aircraft. Next, we downloaded their software trial, processed the photos and submitted back to them the digital elevation model that we produced–as entry to win a free 6 month software license. From the point of view of actively pushing prospects towards trailing software, and with a suitable benign dataset, this was brilliant!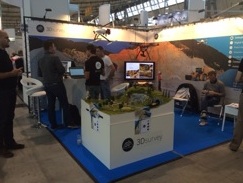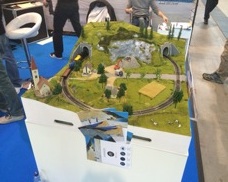 As the premier event in our industry's calendar, there were yet again many other exhibitors who also put on a good show at Intergeo, and will do so again next year too. I am just wondering how many indoor airships will be floating down the exhibition hall's aisles next year in Hamburg?