I have now returned home from attending Intergeo in Berlin. I must admit that, with many of our industry's vendors having announced new hardware in 2016, this year may have felt a little flat in terms of excitement, with no shiny new sensors on display.
However, regular readers will know though that it is not a dramatically smaller or faster sensor that will excite me, but instead the tweaks in a workflow that improve data delivery to the customer. With that in mind, here are two highlights from this year's Intergeo.
1: A UAV sensor designed with a purpose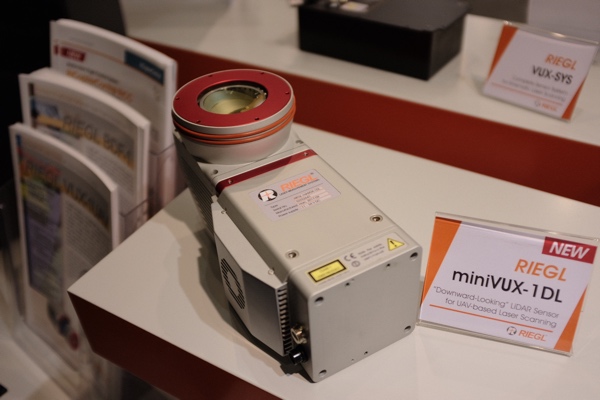 A personal gripe of mine has been the UAV industry's repurposing of sensors, specifically those that are selected mainly based on cost rather than being fit for purpose. Most commonly, we see this when lidar sensors that were originally designed for the automotive industry are used for survey applications.
In an earlier post, I emphasized how UAV lidar use is best applied to applications involving linear survey and mapping activities that take place in highly vegetated and/or steep mountainous environments. While at AUVSI earlier this year, I blogged about how one of the sensors from the start-up community that that I liked was from Z-Senz, which deployed a 2-axis scan pattern to focus all the points collected on the ground. This is particularly important for efficient survey operations, as it increases point density and vastly reduces redundancy in onward processing. Just think, how often is what's being mapped located above the UAV platform?
It is for this reason that I was pleased to see the RIEGL miniVUX-1DL announced at this year's Intergeo. While SPAR3D Editor Sean Higgins has already published a news article on its specifications, I am more concerned with the implications. I am excited to see an established lidar manufacturer designing a professional system specifically for UAV mapping.
Unlike other sensors in RIEGL's VUX range, which include spinning 360-degree scanner heads that can be mounted on both mobile and airborne platforms, the miniVUX-1DL features a circular downward facing scan pattern. As such, it is obvious that the miniVUX-1DL is not only designed for airborne UAV survey, but also the application of corridor mapping (such as vegetation management in transmission corridors) where the case for lidar has clear and tangible business drivers.
With a swath width of 23o, the miniVUX-1DL offers a narrower corridor of data than the 40o of useable data that is typically offered by a 360-degree scanning system. However, within this specific application—and even within other engineering-level projects in areas of dense vegetation—it should still be a perfectly viable solution.   
2: Increased data accessibility
The other theme to highlight from this year's Intergeo is the move to web delivery. Use of the cloud and web- based services is not new. What is interesting is the move towards what I will term "core data consolidation" platforms among the main vendors. When I use this term, I am referring to platforms that process and/or share data from multiple platform types, for delivery of information to meet project requirements. Both Trimble and Topcon launched their versions of such platforms at Intergeo.