Bidding for projects is a necessary, inextricably existential proficiency that construction companies need to master in order to win business and continue to operate as entities. Adding to the importance that bidding plays in the construction industry ecosystem, it's also a fiercely competitive process. As an example, writers for Procore estimate the "hit rate" (i.e., success rate for submitted bids that are accepted) to be 5:1, "meaning that for every five jobs you bid, you are awarded the contract for one of them." This figure should serve as a sobering demonstration of the gravity that competition plays among contractors bidding on projects. What's more, bidding strategies, researchers found, "had a direct impact on project performance" as well as an "indirect impact on company performance, while project performance becomes a mediation variable of [the] bidding strategy and company performance relationship."
Construction project bidding has long played a role in how projects get awarded (especially among government infrastructure projects), but the industry landscape is changing. For example, bid requests used in the residential sector have been decreasing, suggesting a wider push to the design-build approach as evidenced by data produced by the Construction Management Association of America (CMAA) and signaling an even more competitive market where traditional bidding is used to decide which companies are awarded which projects.
It's critical, then, that companies master their bidding strategies—I've gone so far as to advocate for companies hiring proposal coordinators who offer a specialty skillset (not unlike how specialty contractors are employed for specific phases of construction projects); the aforementioned skillset: Succinctly telling a company's story compellingly while accurately hitting bid requirements and standing out in the crowd. A tall order!
In this article, I'll focus on one another strategy not often addressed in the industry that can additionally make your bids stand out: A customer experience-focused pitch.
Quantifying the Customer Experience
Before I explain how companies can build a customer experience-focused bidding strategy, first we need to establish why they should even care to bother. What is this so-called "customer experience" and why does improving it matter?
The customer experience (also called "client experience") is defined as the sum of a customer's perceptions, thoughts, feelings about the quality of a business transaction, from beginning to end.
The customer experience is important irrespective of industries. Just as you'd want your meal delivery service to ensure the right ingredients are accounted for (my wife and I can offer a personal experience with this example!), companies opening up work to prospective bidders naturally expect that work performed by the contractors they award contracts to will be of highest quality—lest risk facing losing follow-up contracts, gaining poor word-of-mouth reputation, etc.
If you can convincingly prove a positive customer experience at the onset of the bid submission process, you have a good chance of your bid jumping the line.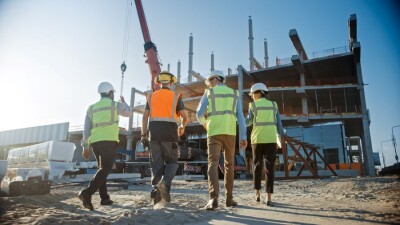 Not convinced?
Consider some of these figures pertaining to customer experience:
96% of customers say that their experience plays a large role in deciding which brand to remain loyal to.
52% of American consumers are willing to pay more if they know they will have an excellent experience.
84% of companies that work to improve the experience of their customers report an increase in revenue.
83% of customers will take their business elsewhere if they have a bad experience.
Consider, further, the oft-cited profit margin construction companies report (6%) against another statistic: Companies that excel at the customer experience grow revenues by 4-8% above their market.
Three Ways to Inject Customer-Centricity into Your Bids
Now we've covered why the customer experience is one ancillary lever worth pulling to make your bid stand out.
Here are three ways to inject a sense of customer-centricity into your bids:
1. Case Studies
It's no wonder why LinkedIn recommends adding case studies to profiles to "showcase your skills." Online marketing and search engine optimization powerhouse Neil Patel describes case studies as "The closest that you can come to demonstrating the value of your product or service."
Case studies, Forbes reports, play an important role in marketing a business, helping companies, for example, show how their services helped clients grow, sell and/or scale and tell compelling, human-to-human stories for B2B audiences.
Case studies can be seen at work at some of the largest and most respected companies in the world:
Partnering with your company's marketing and website management team, you can build out case studies to be housed on your website and other marketing touchpoints. As your library of case studies grows more robust, you'll have more on tap across project types (e.g., from municipal to residential), which a proposal specialist can roll into bite-sized, bid-worthy inclusions to convincingly substantiate claims of a customer-focused approach with plenty of qualitative and empirical evidence.
2. Leveraging Technology Promoting Customer-Centricity
Another way you can promote customer-centricity is through leveraging customer-focused technology, signaling to bid reviewers they'll have a positive experience through an interconnected project that puts them at the center.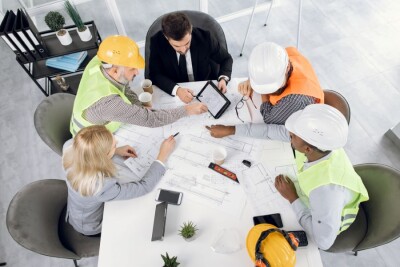 Example technologies include:
CRM
Customer relationship management (CRM) platforms like HubSpot's free CRM, Salesforce CRM, and SAP CRM help companies streamline customer interactions by compiling data and communication channels (e.g., email, website live chat, support calls, social media engagement, etc.) to better cater to their needs, retain their business, and drive sales growth.
Researchers for the International Journal of Civil Engineering note the diverse nature of construction clients in the public and private sector, the complexity in their buying processes, and their varying levels of knowledge of the industry which make the "implementation of CRM throughout the lifecycle of assets […] more effective [… for] management of existing and prospective clients."
BIM and Lidar
Building information modeling has long been known for its effectiveness in driving collaboration and clash detection, helping prevent rework and improve project outcomes (and ultimately the customer experience). Coupling this with lidar can be used to offer "clients and stakeholders a glimpse into what the finished project will look like in its natural environment."
In short, BIM and lidar, in addition to providing greater real-time collaboration, can help companies provide customers with more realistic demos and quality assurance.
Customer Journey Mapping
A customer journey map provides a visual representation of each individual step or phase that a client will experience from the moment they learn about your company to the time they purchase a product or service. There are many online tools to help build customer journey maps (e.g., Miro Template, Mural Template). You can learn more about journey maps, what they are, and get 150+ other templates from UserInterviews.com.
Adopting templates like these to create a journey map for each client and their unique project at the project kickoff is just another information exchange that helps ensure a positive experience.
Project Management (Keeping It in the Cloud)
Cloud-based construction project management platforms like Procore and Autodesk Construction Cloud™ can help project managers keep clients in the loop (in real time). Connecting every stage of your construction project (and its various contributors), these online platforms help prevent data silos and outdated information, empowering project managers to deliver projects on time and on budget.
Data Synchronization and Security
In addition to moving project management to the cloud, as I've previously suggested, technologists can drive interoperability by connecting various teams' online platforms and apps through software integration and integrating with important company-wide touchpoints like your ERP and above-mentioned CRM. What's more, looping in your security team is critical when building these integrations to ensure that customer data is protected and not mishandled.
3. Assure Quality, Craftsmanship, and Customer Values Are Installed at the Application-Level
A final piece to driving an improved customer experience and ensuring quality is doing so at the application-level.
There are many ways professional tradespeople and construction teams can do so:
Final Word
Bidding has long been a competitive, albeit an inextricably existential, competency needed of construction companies to win business and continue to merely keep the lights on as well as grow as business entities. Focusing on ways to improve the bid (e.g., hiring a proposal specialist) can help companies gradually turn their 5:1 hit rate closer to 1:1.
One untapped resource worth making you standout: Drawing from the qualitative experiences of your satisfied customers. With these above-discussed strategies, you can inject customer-centricity into your bids. Consider that a staggering 86% of people say authenticity matters when deciding what brands they like and support. While it's necessary to respond to the requirements of the bid, doing so in addition to cutting through the sea of facsimile bid-respondents with authentic, human stories that show why your customers are your advocates might just be the bid-winning ace up your sleeve.