Contributed by Steven Cooke, Linesight
Right now, there are a plethora of new technologies that can make construction and design safer and more efficient. They include things that have revolutionized other industries like artificial intelligence and predictive analytics. Others are tailor-made for the architecture, engineering, and construction (AEC) industry, such as building information modeling (BIM) systems and 3D printing on a large scale. There are project management applications that can track the supply chain to ensure materials arrive when required or manage workflow for trades and other subcontractors. But, of course, there are issues.
Because of the wide variety of software providers, not all applications will work with each other effectively. AEC companies might have their preferred system, one that they've fine-tuned to meet their needs, their people are familiar with it, and it represents a substantial investment. But what happens when their largest client uses another system, one that is incompatible? Should the AEC company invest in this other tech to improve communication and collaboration with the client? Most AEC companies have diverse client lists and work with multiple subcontractors, and they could all use different software, which just exacerbates the issue. After all, this software is supposed to improve efficiency, not force anyone to buy licenses for eight other applications that all provide a similar service. The incompatibility delays innovation and can make a company think twice before investing in a particular system.
Communication is key!
Ideally, all these programs would have an open application programming interface (API), which would allow two or more different software applications to communicate and work with each other. Thankfully, over the past two or three years, there has been a significant improvement in this regard. And the fact that we are seeing these discussions between AEC companies and their clients shows progress being made. There could even be a standardized format in the near future.
We've also seen a surge in the use of things like remote sensors and other devices that collect a considerable amount of data. To handle it and make it useful, companies need to employ an integration system that can extract, transform, and load (ETL) the data into a valid format. Other industries have done this for a long time, but the construction industry has been slow to embrace it. All this data can be used to generate dashboards that show the status of a project, supply chain status, job flow, and so much more. The power of this data visualization can help clients make decisions on projects sooner.
As it gets more powerful, clients might go to a secure portal and interact with a computer-generated avatar. The client might ask to see up-to-date information on the status of their project, like the current anticipated completion date. Or they could ask for an estimate on a potential job. For example, they could input the project variables, like a 50-megawatt data center, and the program could respond by saying that it would take approximately 14 months and cost around $500 million. Several other industries use this type of technology today, from healthcare to finance. Prime examples are bank sites that can tell customers how much money they can borrow for a mortgage or business loan.
Prefabricating success
A few areas where we are likely to see explosive growth could be with 3D printing and prefabricated modules. There have been projects where massive printers have built houses to rigid specifications. It is not a giant leap to expect to see this same technology be employed to construct modular building parts in a warehouse, where they will later be assembled on the job site. Life sciences companies have started to use prefabricated components like clean rooms to simplify the construction of new facilities. Building them in this fashion ensures a more controlled environment, resulting in higher accuracy, fewer mistakes, and less waste.
Technology is constantly advancing; sometimes it feels like it's at a break-neck pace. In a few years we could see a massive increase in robotic-controlled machinery or workers using exoskeletons to lift heavy materials while avoiding injuries. Or, it could be the ongoing evolution of the Metaverse, a 3D virtual reality space where AEC companies could show off designs or conduct walk-throughs with clients spread out across the globe. Construction professionals should attempt to be at the forefront of the next wave of innovation. As we've seen, leveraging technology creates efficiencies, lower costs, and offers superior customer service. It is something that more and more clients will expect, and not adapting could leave those companies at a severe disadvantage.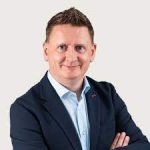 Steven Cooke is Managing Director for the US West Region for Linesight. In 2016 he relocated to San Francisco having previously setup the first Middle East office in 2008, where Linesight now provides cost management, quantity surveying and project management services on multiple large-scale projects, valued at several billion dollars. A BSc Surveying graduate of Napier University, Edinburgh, Cooke is a chartered surveyor with +20 years of professional Construction experience