Well, that's not entirely accurate, actually. FARO did put on a 3D Documentation Conference last year, in Europe, just like the one held here in Orlando this week, but this is their first large-scale event here in North America and the first one I was able to attend (for a wrap-up of last year's Euro-event, see Miguel's write-up here).
Frankly, I was pretty impressed. FARO is reporting roughly 275 attendees and it seems to have caught them a little by surprise, judging by the lack of sufficient chairs for the keynote speeches in the morning and the very full lunch and dinner tables yesterday. The rooms for the break-out hands-on workshops (which weren't actually overly hands-on) were often standing room only, the networking events were pretty lively, and the exhibit hall wasn't totally barren (yes, that's a back-handed compliment, but this was pretty obviously a FARO user-group meeting – and people were still interested in speaking with a few of the other vendors). 
Here are a few shots of the exhibits taken during the first exhibit break-out opportunity: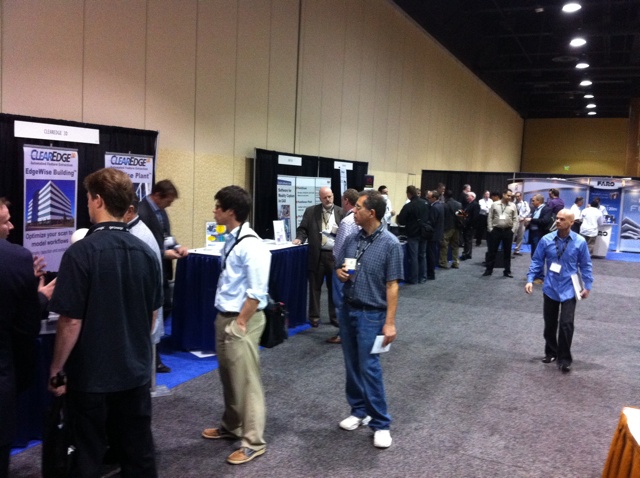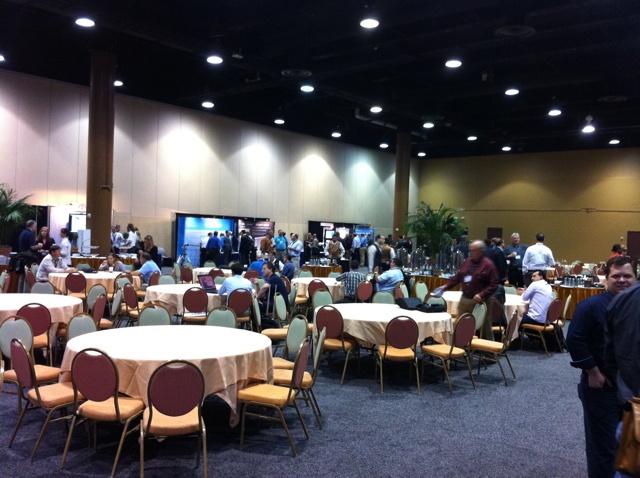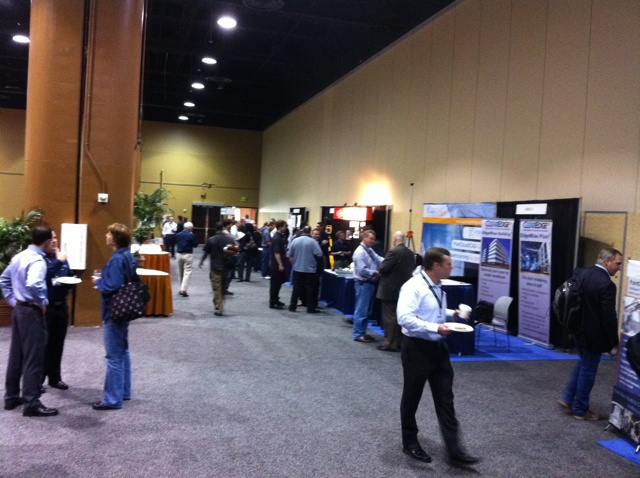 Really, not bad at all. And the content was quite good. Sure, it was vendor-heavy on the first day, with presentations by representatives from Autodesk, 3D Systems, Innovmetric, Rapidform, and Geomagic, but it wasn't too sales-pitchy and especially the talks by Geomagic and Innovmetric head Marc Soucy were substantive and had take home points that weren't overly related to their own products. 
And the workshops definitely delivered the training that these FARO users were likely looking for most. The how-to-scan workshop that I attended definitely left me feeling like the scan process had a pretty simple workflow and I was ready to dive in and start playing with the new FARO Scene 5.0 software that made its debut at the show.
Here's a shot of me looking serious as I learn how to scan (not the SRO crowd behind me):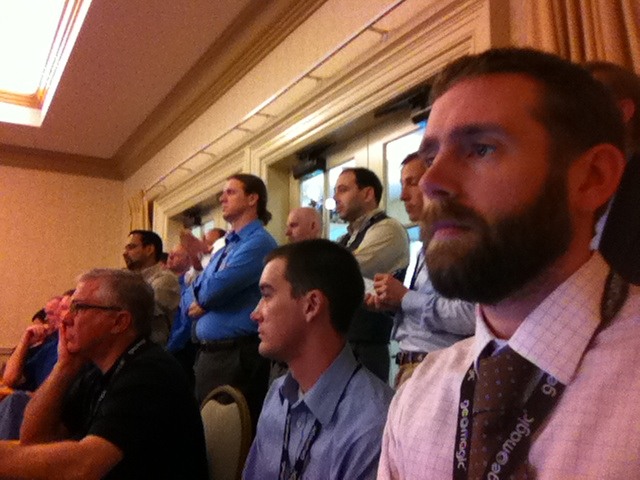 Not bad for an awkwardly held iPhone, right?
Anyway, here are some of the major discussion points and takeaways that dominated discussion in the halls and over meals:
1. Democratization of 3D data is real, and it's coming. The reduction in price of the FARO Focus3D is just the beginning. 123D Catch is just the beginning. There is going to be a significant push by FARO, the likes of printer maker 3D Systems, Autodesk and many others to really get the masses acquiring and using 3D data. FARO CEO Jay Freeland openly wondered why the entirety of the world hasn't been captured in 3D and he said it was essentially his mission to see that happened. Will all of it be survey-grade data? Unlikely. But it will be more and more common for people to capture reality and use it to make decisions or create new products and services.
2. The Focus3D is STILL really new. I spoke with more than one surveyor who owned a Focus but hadn't yet really put it through its paces. What with the six-month delay in delivery for many people (that's not a problem anymore, more than one FARO rep took the time to let me know), and the fact that business is picking up, it's been difficult for many Focus owners to really explore the unit's capabilities. 
3. Small stuff scanning and big stuff scanning is clearly coming together. What were Rapidform and Geomagic and Polyworks doing at a show that's basically for people who use laser scanners with 120 meter range? They're not just in the reverse-engineering and metrology space anymore, and much of that is thanks to the fact that long-range scanners are being used more and more often to scan discreet objects and do resultant modeling. The scan-to-surfaces workflow for small items that has been used in manufacturing and other spaces for years is coming quickly to the AEC field, forensics, and other verticals that are using long-range scanners.
4. People like that FARO is coming out guns blazing. The attendees here weren't necessarily FARO sycophants by any stretch. Most attendees had scanners made by other manufacturers as well and were the well-known industry-types whose faces I often see at SPAR International. They liked that FARO was being aggressive, though, and was forcing more competition into the marketplace and working to get the market moving forward. I didn't get the impression that these folks were FARO do-or-die types, but rather were interested in learning more about a company that's still somewhat new to many who've been in the space a long time. Are they serious? Do they have substance? Is this a company that's in it for the long haul or just looking to be acquired? I think this event likely assuaged any doubts people might have had about a company that had originally been focused on the fine metrology marketplace. They're certainly serious and making a commitment to the marketplace as a whole.