"We believe that the fundamental limit in technology is not its size or its cost or its speed," writes Leap Motion, "but how we interact with it."
This statement demonstrates the fresh perspective that companies like Leap Motion have been bringing to the commercial 3D tech industry. In fact, in the past year or two, we've started to feel a sea change as even the most entrenched, traditional manufacturers in the commercial 3D space have taken a hard turn toward simplicity of operation and sheer usability.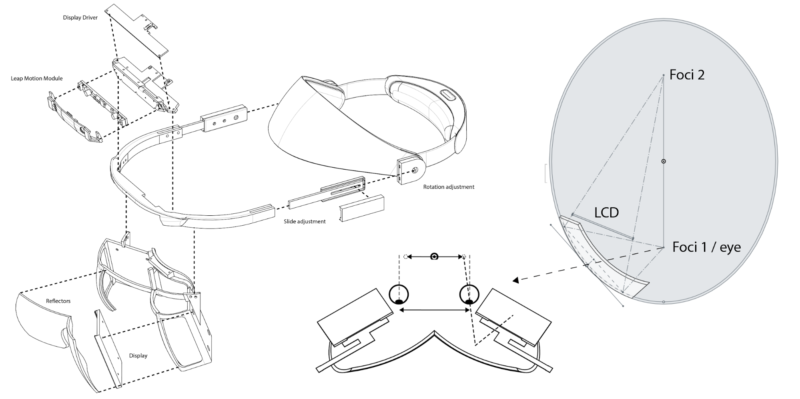 The company's new Project North Star is a hardware platform with the grandiose ambition to "chart and sail the water of a new world, where the digital and physical substrates exist as a single fluid experience." Based on the latest wave of VR tech, the new AR headset includes two 1600×1440 displays "pushing" 120 frames per second with a visual field over 100 degrees. For a very in-depth post about how the headset hardware is currently specified, and a plan for the future, check out this great blog post.
How much does this wonder device cost? Leap Motion says it costs under $100 to produce at scale, so you can be assured it will cost a lot less than the HoloLens, which is starting to look more like an extravagant proof of concept than a device truly ready for the wider market. (I bet some of you knew that already, though.)
Why should you care? Leap Motion is going to open source the whole thing. That means anyone with the inclination and the skills can build their own AR applications using this dirt-cheap platform. It also means collaboration—one thing open-source technology excels at is bringing together likeminded enthusiasts who can tackle big problems as a group, and move a technology forward in ways we might never have expected.
Here are a few videos that will give you an idea for what they're capable of.
Another day at the augmented office. Our latest foray into #AR design with #ProjectNorthStar makes your entire world interactive. pic.twitter.com/SB8SNidbCG

— LeapMotion (@LeapMotion) April 24, 2018