by Bhushan Avsatthi
Asset scanning technologies combined with Building Information Modeling (BIM) create a process outlined as Scan-to-BIM. While it creates efficiencies at scale for new buildings and renovation projects, it also captures accurate As-Built conditions to provide greater value for facilities maintenance.
Complex facilities are often challenged by unreliable asset data and flawed As-Built 2D deliverables. It becomes all the more complicated and challenging for Facilities Managers if the Facility undergoes several remodelling stages. Other challenges include facilities cost management, asset maintenance, security and time management, trade collaboration, and compliance management.
2D As-Built drawings can be extracted to manage ongoing facilities operations with accurate laser scans containing millions of Point clouds converted to 3D models. Project closeouts prove difficult for general contractors if As-Built documentation is fragmented or isolated. Reinforcing a BIM model with design data, field changes, and other deliverables for a close-out enables Facility Managers to leverage a single source of truth prepared using a centralized database.
"Exploiting 3D models and their associated data coordinates facilities maintenance, repair work, and future renovations with functional & physical attributes of a facility."
The transition to asset information modeling with Scan-to-BIM
Projects with complete BIM implementation empowers clients with accurate and detailed Asset Information Model (AIM) during the project handover. Most of the BIM adoption is focused on construction processes including planning, design, and construction.
However, project stakeholders are considering extending the capabilities of Scan-to-BIM to operate and manage building assets for international facility management. This asset data includes 3D models, 2D As-Built drawings, and other data that needs to be integrated in the asset and as per required standards (COBie/NBS, etc).
Regularization of details with BIM models for building operations can help Facility Managers operate and maintain facilities more efficiently. Complex commercial infrastructure requires detailed information on various elements such as space reconfiguration, HVAC, electrical and lighting systems, piping, fire protection, material types, specifications, etc.
Through complete three-dimensional visualization, Scan-to-BIM helps facilities teams of commercial infrastructures to have greater insight into the estimated schedule and cost of ongoing maintenance.
The existence and advancement of BIM realize long-term advantages
Building construction projects that are not well documented, post-construction require validation through Scan-to-BIM models and As-Built drawings.
"Demonstrating reliability & relevance is the true value of Scan to BIM for future use."
Information is incorporated into BIM models to generate a database with precise dimensions of the asset. Ensuring a 3D BIM model stays up-to-date helps facility managers save time and cost, space optimization, and energy consumption.
Equipment lists, cost details, datasheets, maintenance schedules, and other details can be connected to the Facilities database. BIM tools generate data that is compatible with FM software and empowers facilities teams to gain complete control with a centralized and interoperable database.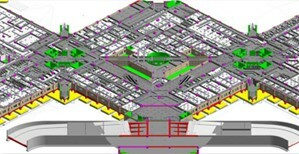 Preparing your team and your asset for the future with added Scan to BIM value
Providing a compatible and future-proof solution for owners and facility managers delivers a consistent and informative database for greater business, technical, and functional value. Let's understand this in detail.
Added Scan to BIM - Business Value
Diminished risks:

A coordinated BIM model reinforced by a centralized database in IFC or COBie formats and accurate spatial arrangement:

Mitigates budget failure risks

Reduces re-design

Improves business activities

Accurate schedules

: Precise asset information about the existing facility provides comprehensive insights to realize efficient facilities management within planned schedules.

Lower OPEX

: Enhanced asset performance and asset management with 3D visualization can lower operational expenses with:

Cost certainties

Reduced budgets

Lower project risks
Added Scan-to-BIM - Technical Value
Asset consistency

: Consistent asset delivery connected by a myriad of data sources improves project reliability and design intent. Documenting hard-to-reach spaces of project sites delivers greater visualization for Facility Managers.

Data accuracy

: Greater information reliability through a scalable output that complies with demands and regulations reinforced with updated data and interoperable tools.

Augmented performance:

A single and reliable asset database with design and performance information can support facilities managers take informed decisions and accelerate maintenance runs.
Added Scan-to-BIM - Functional Value
Better project transparency: Identify and communicate the impact of design changes for greater project transparency.
Improved coordination: Evaluate operations and maintenance on a virtual platform by collecting crucial data including:
Schedules

Costs

Occupancy

Specs to achieve improved information management

Maintenance tracking
Operational value: Coordinated design enhances decision-making and profile of the FM function with specific client requirements.
Wrapping it up
Point cloud to BIM models enables facility managers to gain a detailed view of existing buildings and equipment during repairs or up-gradation of the facility or equipment. With a centralized and digitized storage system, stakeholders are on the same page with easy access that helps them make informed decisions.
With enhanced visibility from 3D models, facility managers can not only improve facility maintenance but also gain crisis control. Construction companies are increasingly outsourcing their facility management requirements to reliable BIM service providers to gain savings of cost and time.
About The Author:
Bhushan Avsatthi is a talented architect with over 22 years in the field. He oversees the BIM division of TrueCADD.com, managing multiple teams of architects, structural and MEP engineers, LEED consultants and energy modeling experts. He has spoken at various international BIM conferences and is deeply involved in green initiatives. His thoughts on global best practices in building design have been published in multiple architectural and engineering journals.