I think loyal attendees of Leica's annual HDS conference harbored some trepidation when it got out that the conference would be combined with a larger Hexagon annual conference, bringing together folks from the Intergraph population and any number of other Hexagon brands. Basically, the combined group went from some 250 or so to some 2500 or so. Could that tight-knit feel of the Leica conference be retained?
Well, yes and no. There is definitely a collection of laser scanning folks that's fairly easy to find in the dedicated track that Geoff Jacobs has put together and retained. There was one ballroom yesterday, and two today, that are laser scanning from front to back, and you can easily stay right in the same place and feel comfortable. 
Here are a couple of shots of the crowd in the "laser scanning room" from yesterday.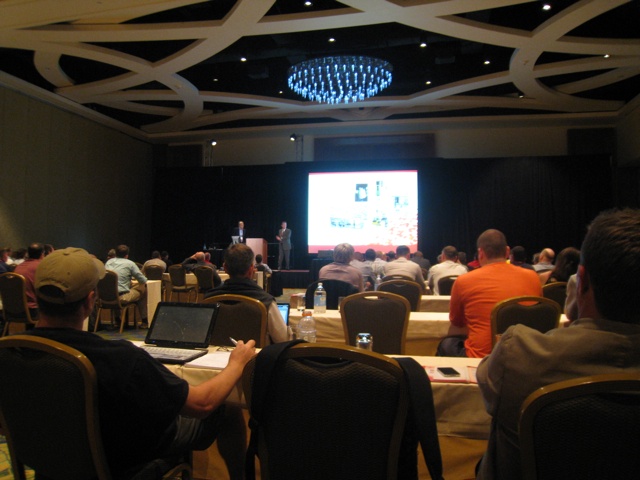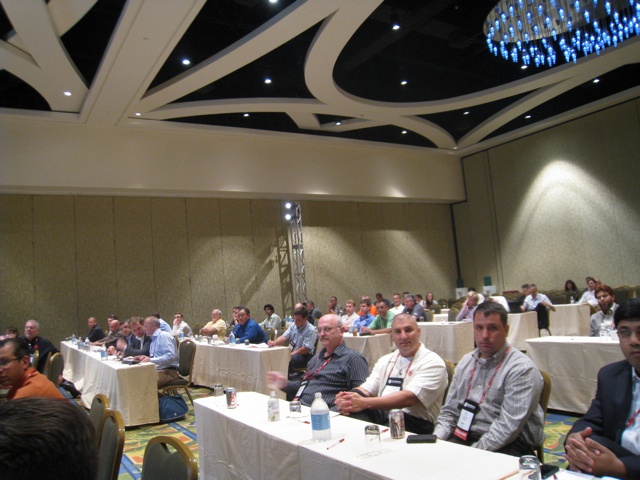 Let's just say that the crowd at 8 a.m. this morning wasn't quite so robust. Why? Well, when Hexagon decides to throw a party, they throw a party. They rented out a large portion of Universal Studios last night and had drinks and food all over the place, both outdoors and throughout six or seven different venues that you could walk in and out of. 
Can you imagine live-band karaoke with a bunch of metrology and plant guys after 10 drinks each at 11 p.m.? There you have it. I heard one of today's speakers (I won't out him) say he got about an hour of sleep last night. He was sweating bullets up there, but kind of knocked his presentation out of the park, so there's something to be said for adrenaline. 
And that party is the "no" part of that tight-knit feel. Sure, there was a venue for HDS folks, but everyone was free to roam, and most did, and that's a good thing. It's good for the conference as a whole, too. I hope that most HDS people are taking the chance to check out all the other presentations being made by Intergraph, ERDAS, etc. folks, as there's a lot to be learned about the burgeoning 3D imaging industry here. Especially when it comes to how the technology is being used in areas like security and defense. If all of these other presentations don't get the wheels turning, then folks should probably just stay home and not bother going to conferences in the first place. 
Hexagon is doing a good job, too, of encouraging all the different types of attendees to come together with keynote addresses that are broad and wide-ranging, and not too industry specific. 
As an example, here's what the keynote space looks like here:
Yeah. It's huge. It's not often very full, but the people in the seats are turning over all the time. 
Further, the branding and messaging is very good here. Everything is going back to "actionable intelligence," throughout all the brands, and they're doing a great job of showing that all of this technology does, indeed, go together. You can't miss this kind of stuff even if you're trying: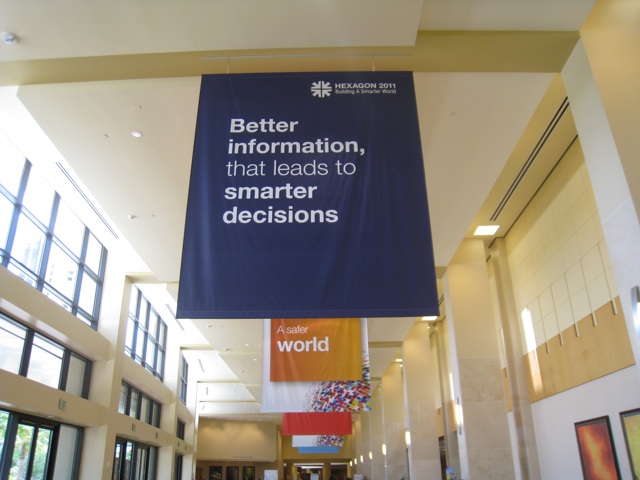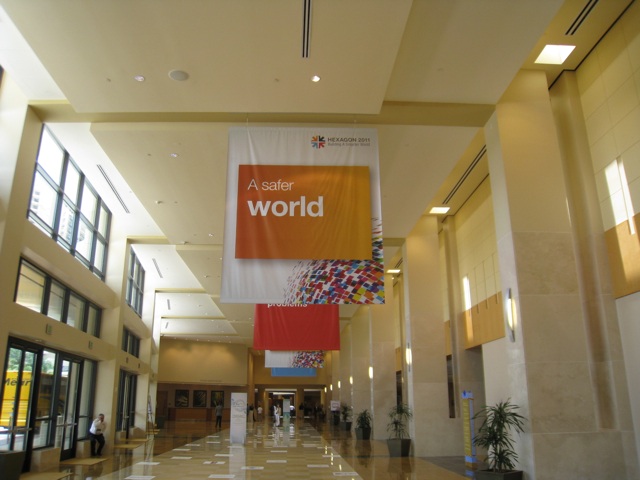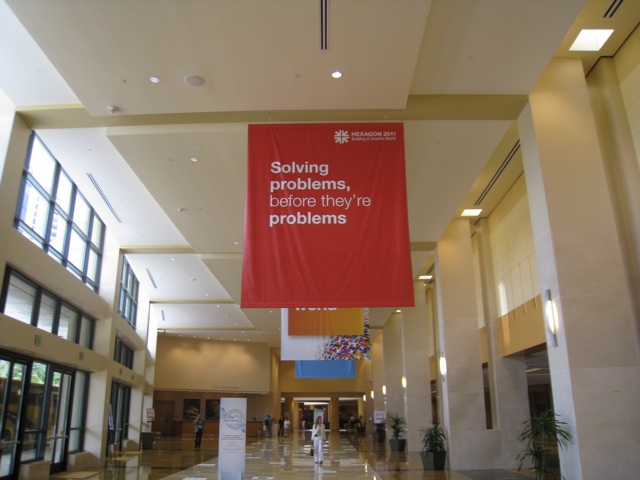 And take a look at the new logo. It's everywhere. Pretty sharp, if you ask me, though one guy at the media lunch yesterday questioned Hexagon CEO Ola Rollen about it pretty extensively, wondering about the old "nut."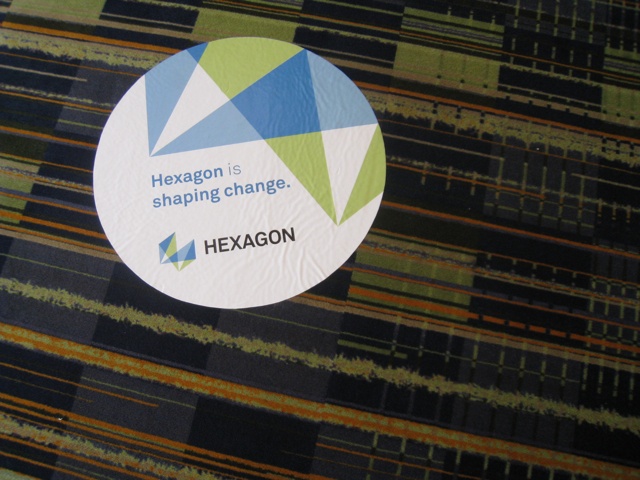 "Why, don't you like the new one," Rollen asked, kind of combatively. 
There's also a show floor here, much more extensive than anything that had ever been at the Leica conference. I'm not sure how many people are visiting it, as I've only been in there during the presentation times, and haven't been there during dedicated show floor time, of which there was some yesterday, I think. So, without trying to make the floor look deserted, here's what it looks like, giving you some feel for the size of the booths and the presentation: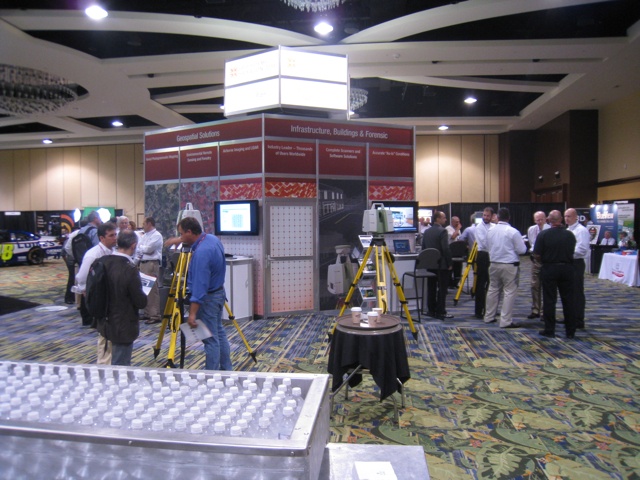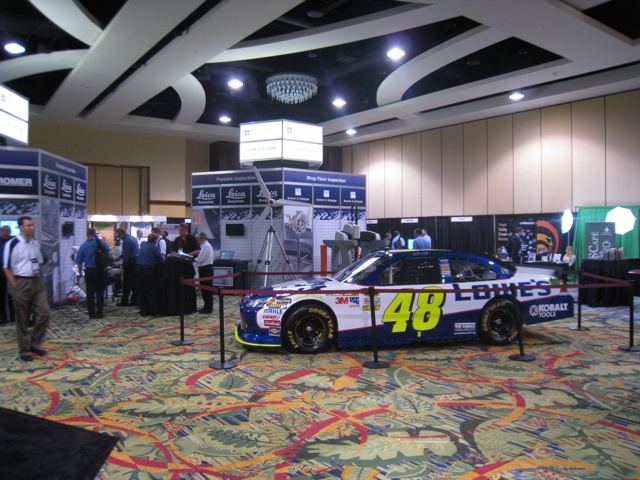 I'll have a ton more coverage of the content of the individual presentations I've been in, so stay tuned.